As overnight rains resulted in run off water flowing into Canvas City, Wismar, Linden, residents accused regional officials of sloth in unclogging a culvert and blamed them for damage to properties in the area.
At least two families of Canvas City, Wismar were reeling as the rainwater left the front of their yards eroded and collapsed fences.
The culvert in front the Lot 478 Canvas City home of Nichola Higgins was clogged. "We see this coming yuh know, we see this coming," Higgins said, while adding that the culvert could have been unclogged a long time ago had the authorities responded to their numerous reports. She said that residents first complained to Linden Mayor and Town Council, who said that it was not the authority to deal with the matter. They then went to the Works Department of the Regional Democratic Council (RDC). "We went to deh RDC engineer and told him about the issue and he come two days ago and saw what was happening," Higgins said, noting that the engineer promised to get the Drainage and Irrigation (D&I) worker but never returned until yesterday after the damage was done.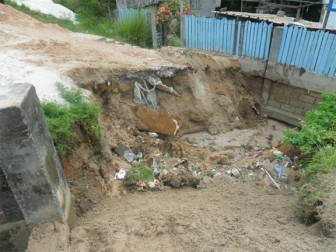 The property of Jennifer King was also badly damaged. A section of her fence had collapsed as a result of the gushing water, which eroded the sand land at the front of her fence. "You know that they would have to build back my fence, I ain't going to tek this like this, because we have been doing our part and that was to repeatedly report the situation," King explained. "I hurt about this whole thing bad because this place erode to deh extent that even the foundation of my house crack-up and the authorities got to fix back my place," she added.
Engineers attached to the RDC were in the community when Stabroek News visited the area.
A D&I foreman Pierce Ifill blamed the works which were done on drains and roads at the Block 22 and One Mile Wismar. He opined that the designs of the drains in those communities, which sit above Canvas City, put undue pressure on the drains and culverts in Canvas City, resulting in yesterday's situation.
Ifill said that the Canvas City drains are cleaned every week. "What should happen here is that another drain should be connected to this one (the culvert) to solve the problem," said Ifill.
An engineer who was at the scene said that the pipe used to construct the culvert was too small and in his opinion it could not be rectified in a hurry.
Around the Web