With lives continuing to be lost to domestic violence, Red Thread activists yesterday made an appeal for candidates contesting for the presidency to ensure it is given equal importance as other national issues in the election campaign.
This appeal was made by members and supporters of Red Thread as they held a vigil along Water Street yesterday to highlight the issue. Red Thread, as part of its women's rights advocacy, has been holding peaceful demonstrations on the issue for some time now, while calling on the authorities to take action and for the victims to walk away from harmful unions before it is too late.
Speaking with Stabroek News, Coordinator of Red Thread Karen De Souza said the vigil is intended to highlight the plight of women and how senselessly they are being slain. In addition, she said that the focus is also on children, who are also victims of domestic, which can even result in their deaths.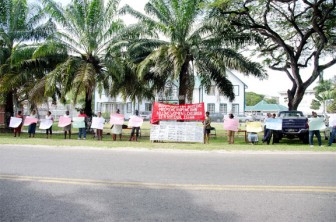 The participants in the vigil carried placards and their largest banner listed the names of some of the victims that have perished as a result of domestic abuse, with special emphasis on the three Blanchard children who were allegedly knifed to death by their father.
Some of the women were emotional as they spoke about the suffering some women living in violence have to endure, while urging those women to pack up and leave those homes and start afresh.
The activists showed that they were determined to brave all the elements of nature as they stood in the rain to have their voices heard. There will be more vigils but Red Thread has not yet decided where and when they will be held. It is, however, advocating for all women to come out and campaign for speedy trials and harsher penalties for wife beaters.
On Thursday, members of Red Thread and their supporters held a peaceful protest outside Office of the President (OP) as part of their continuing demonstrations.
Around the Web