President Bharrat Jagdeo has urged this year's national awardees to play a special role in next month's polls, saying their influence and wisdom could be vital in the transition that takes place.
The head of state made the call yesterday at the National Cultural Centre where more than 100 persons who have made distinguished contributions to the development of the country were bestowed with national awards.
According to Jagdeo, the country will be breaking a cycle of the past that affects the country; a reference to disturbances at previous elections. He said that in the 2006 elections, the nation "demonstrated the character of the Guyanese people". The outgoing president told that awardees, "you play a special role in this period, through your influence and wisdom, that you ensure that transition… and the competitive politics will not cause us to lose sight of who we are: hard-working people who have achieved a lot."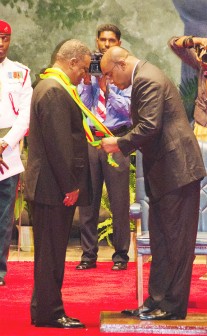 Jagdeo said he was grateful for the examples the awardees have set, "because when you serve our country as a teacher or health care worker you do not always think of people's politics or religion and because of that broadmindedness, in spite of the negative politics sometimes, it has kept this nation together."
Jagdeo acknowledged that there has not been an investiture ceremony for several years—the last national awards ceremony was held in 2002—but he said it was important to recognize the contribution everyone has made. He said the awardees have distinguished themselves in their respective fields and the country as a whole salutes and values their contributions.
He noted too that while some of the awardees are at the end of their careers, some are still active in their respective fields, such as sports, "and I hope that you will not see this as the end of your  involvement. The task ahead is just as important;  your commitment to things that are valuable."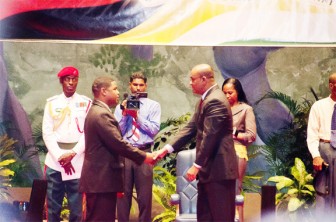 He urged the group to continue to evolve and he noted that a key ingredient in the process of standing out as an individual was to have a good attitude towards hard-working people. He said that many times persons do not value of the qualities of honest hard-working people.
Yesterday's brief and well organized programme drew large support from members of the private and public sector who attended in honour of their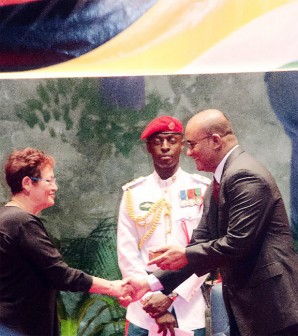 colleagues who received national awards.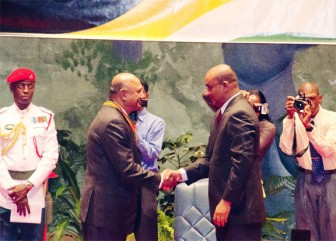 Prime Minister Samuel Hinds was conferred with the Order of Excellence (OE), the country's highest national award. The OE is usually awarded to citizens who have excelled in the field of human endeavour of either national or international significance.
Acting Chancellor of the Judiciary Carl Singh and Attorney General Charles Ramson were, meanwhile, presented with the Order of Roraima (OR), the second highest award.
Some 133 persons in addition to organizations were conferred with national awards this year.
The late Dr Desrey Fox was posthumously awarded the Cacique Crown of Honour, which has also been conferred on Bank of Guyana Governor Lawrence Williams, Chief Statistician Lennox Benjamin, Donna Yearwood, Clyde Roopchand, acting Chief Justice Ian Chang, GRA Commissioner-General Khurshid Sattaur, Professors Nigel Harris, Clement Sankat, Malcolm Parris, Phillip Moore, Miles Fitzpatrick and Clinton Collymore.
The Golden Arrow of Achievement (AA) has been conferred upon Dr Edward Green, of CARICOM, Dr Cyril Solomon, former ambassador to Suriname Karshanjee Arjun, Thakur Danny Doobay, Brentnol Evans, Ambassador Elisabeth Harper, Brian Tiwari, Captain Gerald Gouveia, Deo Persaud, Alfro Alphonso, Chunilall Baboolall, Sean Hopkinson, Edmond Vieira, Glen Khan, Aubrey Stephenson, Professor David Dabydeen, Dunstan Barrow, Carvil Duncan, Dr Arlington Chesney, and Swami Vidyanand.
The Medal of Service (MS) has been awarded to Yvonne Hinds, Dorothy Faria, Diane Ferreira James, Nicolette Fernandes, Victor Ferreira, Winslow Craig, Ameena Gafoor, Stephanie Fraser, Don Gomes, Hugh Ross, Michael Charles, Ramnaresh Sarwan, Dr Vindhya Persaud, James Wren Gilkes, June Griffith, Aliann Pompey, Andrew Lewis, Michael Parris, Elfrieda Bissember, Frank Woon-a-Tai, Paloma Mohamed, Phil Gajedhar, Al Creighton, Egbert Carter, Shirley Edwards, Parbhu Dyal Sattan, Yvonne Pearson, Juan Edghill, George Subraj, Ramnarine Ramroop, Indra Chandarpal, Randy Choo-She-Nam, Derek Williams, Vibert de Souza, Reuben Gilbert, Aleema Nasir, Gharpaul Persaud, John Palmer, Jenny Ribeiro, Irene Wilson, Pooran Persaud, Joycelyn Anderson, Desiree Wyles-Ogle, Yvonne Raghoo, Mohandatt Goolsarran, Juliet Persico, Dr Faye Clarke, Ann Greene, Ulric Donald Jacobs, Mohamed Osman Ali, Wilfred Success, Yvonne Hercules, Maydha Persaud, Deeneshwar Persaud, Monica Fraser-Carmichael, Ramdat Nandkishore, Colleen Anderson, Marva Hawker, Dr Holly Alexander, Panday Persaud, Cedric Smith, Richard Verbeke, Ramsahai Ramnarine (Hardat), Ramesh Ramlakhan, David Mangra and Keith Emmanuel Crawford.
For the military top honours, Commodore Gary Best was awarded the Military Service Star (MSS), while Colonel Bruce Lovell was awarded the Military Service Medal (MSM), along with Colonel Mark Phillips, Captain John Flores, Captain George Lewis, Lieutenant Colonel Francis Abraham, Commander Godfrey George, Lieutenant Colonel Windee Algernon, Lieutenant Colonel Khemraj Persaud and Lieutenant Colonel Enoch Gaskin.
For the Disciplined Ser-vices top honours, Police Commissioner Henry Greene was awarded the Disciplined Services Star (DSS), while Assistant Commissioners Leroy Brummel, Seelall Persaud, Gavin Primo and George Vyphius, along with Chief Fire Officer Marlon Gentle and Senior Superintendent of Prisons, Colin Howard were awarded the Disciplined Services Medal (DSM).
Awards for the Medal of Service (MS) went to Help and Shelter, Food for the Poor, Sisters of Mercy, the Guyana Relief Council, the Salvation Army Guyana Division, Phoenix Recovery, Mothers in Black, the National Library, the Guyana Women's Artists Association, President's Youth Award, Kashif and Shanghai and the Indian Cultural and Social Organisation of West Demerara.
Around the Web