By Marcelle Thomas
Former president of the Guyana Trades Union Congress (GTUC), Gillian Burton, says she was not induced to switch allegiance from the PNCR to the PPP/C and she does not expect any rewards.
"There is no soup drinking as many might say … no gifts offered. It became my private, my personal decision to endorse the PPP/C. There was no tokenism in it. …no gifts offered. There were no promises made. I am just like any ordinary citizen utilizing my democratic right to choose," Burton declared.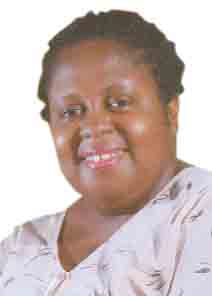 "After doing my own analysis, the best party right now if you are going to go into an election, for me, is the PPP/Civic," she said, adding that her decision emerged out of extensive analysis of the views of politicians and other persons on various boards and committees she sat on.
Burton was first spotted by the media and other persons at the PPP/C's second campaign rally held two weeks ago in Kitty; she was wearing a party t-shirt. "Many were surprised even persons from the PPP/C were surprised to see me on the platform in Kitty but it shows and, like I said then, I was there and am here because of issues and am not afraid to publicly say so," she said.
Apart from restating that she believed the governing party has the best policies and programmes to take Guyana forward, Burton flayed the other main opponents for only giving lip-service to women's issues such as equality in the workplace among numerous others that she passionately describes as being dear to her heart.
"I've had the opportunity to question the politicians on women's issues. They put us on a list and then you don't see us in Parliament. When you question them it's as if you are just questioning another man; not a politician who has a plan to take women forward in a country where we are talking about empowerment and women development."
Burton, a member of the Women and Gender Equality Commission, expressed grave disappointment with the opposition coalition A Partnership for National Unity (APNU) for backtracking on presidential candidate, David Granger's preference for a female prime ministerial candidate.
"He [Granger] promised a woman as his running mate now he has back pedalled. It shows him as a politician not capable to living up to simple promises… to the women of the PNC it was a grave disappointment because there were many capable."
Asked about embracing a party that only months ago she had chastised and deemed discriminatory and anti-worker Burton replied, "Gillian Burton would embrace the PPP/C even after months ago that I said were anti-worker because they were my convictions at that time… Those critical comments I made, that was what I saw at that time and that was how I felt. What I saw hasn't changed totally. However, embracing now I am given a chance to discuss and possibly eradicate the aggrieved issues with the current party whom I know will listen."
Asked if she had discussed or planned to discuss those issues with the PPP/C she said she had not tackled them with the PPP/C's respective representatives just yet. However, she added that in her capacity as a member of civil society she would engage the current administration on the very issues should it be given another term in office.
Asked for her personal assessment of the coalition APNU and the AFC she said that the former was unimpressive and the latter a confused party.
The reason for her vocal criticism of the APNU's "impotent militancy" is because her choice for president while under the PNCR was former shadow finance minister, Winston Murray. After his passing, she explained, she wanted to leave the PNCR but was "cajoled" into staying "for the good of the party". She said she could not be persuaded after David Granger was chosen as the presidential candidate.
Burton said she could never embrace Granger's candidacy because he lacks charisma and the personality needed for such an important position as president of a nation. "It is public knowledge that I have never embraced David Granger. I don't see him as presidential material at all. I cannot sell him. Being in the party and actively working in the frontlines I never saw him reaching out to anyone. You have to meet the people. Those are qualities of a president. I saw him as an introvert. He never spoke to other members just kept to himself; and even me he would pass straight."
Then there is the issue of APNU not having many youths on its leadership team. "I am very critical of them as a party that is about change and futurism. I was looking for younger persons who can give a good ten years to the party. Politics is hard work and it can tell on you after reaching a certain age. You need just a few older persons in the interim to bring up ranks not the majority at that geriatric age as in the APNU," she said.
The AFC, Burton said, was "a confused" party. "One day you would see the Alliance For Change say this, the next they say that, it seems they are not sure what they are about," she said, adding "even their leaders are confused Trotman said one day he'll step down and Sheila Holder was there then out of the blue he is back." When reminded that Trotman re-entered the elections contest because of Holder's illness, Burton said she was still confused about leadership changes and that party's policies.
On the issue of corruption in Guyana, Wikileaks and Roger Khan's alleged involvement with the government, Burton categorically stated that she would not respond to issues about which she had no concrete information. That, she felt, was best dealt with by persons who have inside knowledge of those cases and could thus answer with pellucid clarity.
Pointing out that she was at peace with the decision that she had made, she said she tries to persuade friends and  undecided voters who she encounters to choose the PPP/C, which she feels "is the only political party in Guyana that has sound policies on workers, women's and developmental issues".
Around the Web