The Linden-based Guyana Youth Congress (GYC) has endorsed the opposition coalition A Partnership for National Unity (APNU), saying its promise of a national unity government represents the future of the country in which the interest of all citizens would be given full expression.
The GYC, headed by former PNCR member Denton Osborne, had been in talks with the Alliance For Change (AFC) on a possible partnership for the November 28 elections. However, APNU Campaign Director Joseph Harmon announced the GYC's endorsement yesterday evening and in an accompanying statement, Osborne pledged the GYC's "full support" to APNU presidential candidate David Granger and prime ministerial candidate Dr Rupert Roopnaraine.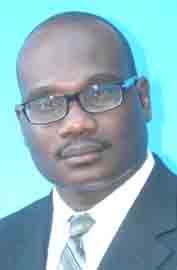 "We pledge to work with and in the APNU to bring about the change which is so necessary in Guyana generally and more particularly to the people of Region 10," he added.
When contacted, Osborne told Stabroek News that the decision to endorse APNU was based on the wishes of GYC's supporters in the Region 10 community, who favoured a partnership with APNU. "They told us they would support us in the region if we go alone for the two geographical constituency seats, and if we are going to join anyone, they preferred the APNU," he explained.
Further, he said that APNU represented parties that were willing to put aside their differences for the best interest of the country. "In that spirit, we decided to do the same.
And any other party that is genuinely interested in the future of young people in this country will take our example and let us unite and form a unity government after the elections," he added.
Since last year, AFC has resisted pressure to the join opposition coalition that has formed APNU, in the light of its decision against partnering with either the PPP/C or the main opposition PNCR. APNU comprises PNCR, GAP, WPA, NFA, GPP, GNC and GALA.
Osborne, a former PNCR youth member, split from the party earlier this year to form the GYC, in order to contest the elections for Region 10. In explaining his decision to form his own party, Osborne had said earlier in the year that the PNC failed to create critical space for youths in its leadership structure.
Asked whether this was still an issue for the GYC, Osborne said yesterday that the APNU's invitation to the party was an indication that it wanted young people to be a part of the process and to participate in decisions about their future. "And it demonstrates a willingness to make space for young people in the APNU," he said, while noting that the GYC's concerns had been addressed. "They understand we care for Region 10 and want to take charge of our own destiny in Region 10," he added.
Around the Web