The Miss World 2011 Pageant is currently underway in London but reigning Miss Guyana World, Arti Cameron, is still in New York waiting to receive her visa to England to attend the  pageant.
According to information this newspaper received, Cameron received the required sponsorship letter to apply for the visa, late, hence the delay.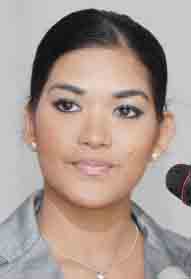 According to a source, the Miss Guyana World Organisation, Cameron and franchise holder Ken Chung who is based in London, were in telephone contact yesterday. The source related that all of the parties involved are doing everything in their power to have Miss Cameron represent Guyana at Miss World 2011. The source said efforts had been made to enlist the assistance of the Foreign Affairs Ministry and the Guyana Consulate in New York in resolving the situation.
The source also stated that in the unlikely event that Cameron did not represent Guyana at Miss World this year, she would be designated as Miss Guyana World 2011-2012, thus affording her the opportunity to represent Guyana at Miss World 2012.
The Miss World 2011 pageant began on Wednesday last.
On Thursday morning, the contestants rehearsed their spectacular traditional dance routines; each contestant wearing an outfit unique in colour and design.
In the evening, talent auditions were held. On Friday, contestants were involved in rehearsals and filming of their profiles. Yesterday, it was tryouts for the sports fast track event at Miss World 2011.
The talent and sport segments have the potential to allow a contestant a fast track into the final which is set for November 6.
Around the Web