(Jamaica Gleaner) Andrew Michael Holness, 39, is now the ninth prime minister of Jamaica.
Holness was sworn in as Jamaica's youngest prime minister by Governor General Sir Patrick Allen at a special ceremony this afternoon at King's House.
In his address to the people, Holness, the first prime minister to be born after Jamaica gained independence, paid tribute to the spirit of the time period.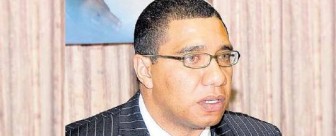 He noted it must have been a period of excitement as people witnessed the birth of a nation.
"Greatness within sight and within grasp it must have been a glorious time," he said in his address.
Holness was elevated to the position of prime minister following endorsements from the outgoing prime minister Bruce Golding and government Members of Parliament.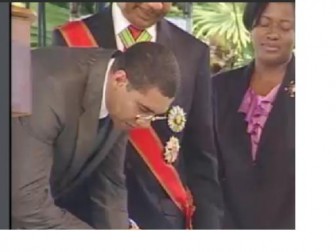 He is expected to reveal his Cabinet soon.
Outgoing prime minister, Bruce Golding will this afternoon tender his resignation to Governor General Sir Patrick Allen, paving the way for Andrew Holness to become the head of government.
Golding noted the Andrew Holness administration will continue the reform programme and he expressed confidence in the ability of the incoming prime minister to effectively manage the country.
While addressing members of the private sector and diplomatic community on the weekend, Holness emphasised that he was also prepared to make tough decisions to drive the development the country needs at this time.
Around the Web