Digicel presented three cheques to the Guyana Hindu Dharmic Sabha (GHDS), the Avon Breast Cancer Awareness Foundation and the Guyana Legion last week to help them fulfil their missions.
GHDS Secretary Savitree Sukhai extended gratitude to the company on receipt of a cheque valued $4,800,000. She said the Sabha is grateful for the donation which will be used for the annual Diwali Motorcade where it will present over $3M in cash and prizes. She also thanked Digicel for being a major sponsor for all the Sabha's events.
The company also presented a cheque for $160,000 to Avon Breast Cancer Awareness Foundation committee member Juditha Da Costa. Da Costa said the money will be used to fund free mammograms for women and to buy pharmaceuticals for breast cancer survivors in Guyana.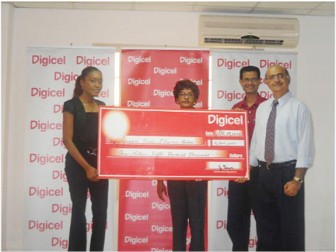 50,000 was presented to Luna Chung of Guyana Legion. Chung who is the niece of Guyana's first president, the late Arthur Chung, said the money will be used to buy air time to host a Remembrance Day Quiz starting on Tuesday. Students from all schools from the ages of 12-15 will be able to participate and trophies will be awarded at the Guyana Legion on Remembrance Day.
Digicel Public Relations Officer Shonette Moore who presented the cheques to the representatives said the company is pleased to be a part of the celebrations. She also said the donations are a fulfilment of Digicel's commitment to promote awareness, education and culture since its launch in 2007.
Around the Web