Since November 2006, there have been at least seven discoveries of grenades outside of state security agencies but police and some security experts believe that the presence of these explosive devices in the public domain is not a cause for concern.
In most of the cases only a single grenade was found though there was an occasion when four were found hidden in a city house and another where five devices were discovered hidden in a Guyanese vessel that was intercepted in St. Lucian waters. In a few of these cases, the devices were hurled at buildings and in one case, a vehicle.
Police Crime Chief Seelall Persaud said there are many isolated cases of grenades being discovered "so we don't see it as a problem". He told Stabroek News in a recent interview that accessing grenades is not as prevalent as illegal firearms even though the potential for violence using grenades is high and it creates instant fear.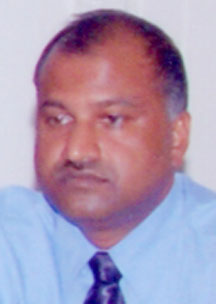 Persaud explained that historically, the police have found evidence that grenades are linked to criminal elements particularly drug traffickers. "We have found people from the criminal underworld with grenades," he said pointing to the cases of murder and arson accused, Colin Jones and the `Fineman' gang.
In November 2006, police raided a home connected to now dead Swiss House cambio boss, Farouk Razac in North Ruimveldt and recovered a quantity of arms and ammunition. Commissioner of Police, Henry Greene later said investigators had not found any evidence to link the weapons to any crime scene. Rhonda Gomes in whose home the articles, which included an AK-47, a large amount of ammunition, cocaine, two firearms and four grenades were found, pleaded guilty to the five charges. She was sentenced to four years in prison.
Then in August 2008, a police operation in the Buxton Backlands between Sideline Dam and Middle Walk Dam resulted in the discovery of a fragmentation grenade, a .30 Carbine, ammunition, toiletries, cell phones, footwear and other items. Investiga-tions revealed that the weapon found was one stolen from the Bartica police station on the night of the February 17 massacre that year.
A  Joint Services patrol was operating in the Backlands when they were shot at by persons unknown. The ranks took cover and returned fire but it is not clear if any of the gunmen sustained any injuries. A subsequent search of the area resulted in the above mentioned items being found but no arrests were made in connection with the discovery.
Among the cases Persaud pointed out was the lobbing of a grenade at a police vehicle as it was about to drive into the Brickdam Police Station in November 2009. Around 3am on November 4,  a group of armed gunmen in a gold-coloured Tacoma vehicle proceeded to the Brickdam Police Station where they threw a grenade at police vehicle PLL 6345 driven by Lance Corporal 17830 Cummings, which was about to enter the compound. However, the grenade failed to explode. This was part of a sequence of shock attacks which started with the hijacking of the Tacoma and the murder of one of its occupants and later ended in the city with attacks on the police station, an outpost, fire being set to public buildings and a man being abducted.
Jones called `Bunny' who was among a number of men wanted in connection with these attacks, was also singled out by Persaud as having possession of a grenade when he was arrested in November 2010. Jones who was in hiding after escaping from the Providence Police Station lockups along with Kurt Thierens created panic in Amelia's Ward, Linden  after he had attacked a family and then lobbed a grenade at the police which did not detonate.
Ranks rushed to the area in response to a report that a man was seen walking along the Amelia's Ward public road with what appeared to be a grenade in his hand. When the ranks approached the suspect later identified as Jones, he threw the grenade at the police and ran into the nearby bushes while the ranks were taking evasive action. The ranks pursued the suspect during which they came under fire from him and they returned fire but he managed to escape. Jones was later arrested in the area with a gunshot wound to his shoulder. He has since been charged with a number of offences including unlawful possession of firearms and ammunition and murder.
Lobbed at
buildings
Persaud also recalled that grenades were thrown at two buildings within weeks of each other. During the wee hours of March 23, unknown persons hurled a grenade at the Prashad Nagar home of Guyana Energy Agency (GEA) boss, Mahender Sharma. Sharma and his wife, Marcia had explained in a statement that they were in the house with a guest when they heard a thud. When they looked out they saw that the shade of the emergency light was broken and had landed in the yard.
Later, around 1:30am when Sharma was letting his guest out, he noticed what appeared to be a grenade in the yard. "It would appear that the grenade may have been aimed at the bedroom of the couple but missed its intended target, landing just below the window," the statement said. Calls were made to the police and the bomb squad arrived around 3:30am. The ranks removed the grenade from the premises and combed the area.
Police have never been able to determine the motive but the Ministry of Home Affairs in a statement had pointed out that Sharma and his staff had been taking strident steps with the support of other agencies to curb the smuggling of fuel.
Then a few weeks later, a man walked up to a  building at 146 Crown and Oronoque streets and lobbed a live grenade before calmly walking to a white car parked a short distance away. The grenade exploded when it landed in the yard and caused minor damage to a window, the ceiling and a concrete column. The owner of the three-storey building, Essequibo businessman Doodnauth Samaroo had said that he believed that jealousy was behind the attack.
Grenade
casualty
The only recorded casualty of a grenade in recent times here is that of Helton Lazarus called `American' who was killed in January this year when the device exploded in the Stabroek Market area. Eighteen persons were injured after a fragmentation grenade exploded at Brickdam and Cornhill Street. Police had said that investigations revealed that Lazarus was holding the device when it exploded; his hand was blown off and a part of his face badly damaged.
The Police Commissioner had stated initially that investigators were probing the theory that Lazarus was a courier of illegal arms and other substances. Just before his death, Lazarus was cleaning a stall owned by Mark 'Bow-wow' Hyman. The stall owner was arrested shortly after the explosion and was held by police for several days. He was later released.
Transit point
Retired army colonel Carl Morgan opines that Guyana is just a transit point for grenades. This point could be driven home with last month's seizure of five grenades aboard a Guyanese vessel in St. Lucian waters. The six-man Guyanese crew has since been charged for illegal possession of the grenades as well as the weapons, ammunition and drugs that were found aboard the ship. The vessel had left Guyana days before it was searched by ranks of the Royal St. Lucia Police Force.
Colonel Morgan told Stabroek News during a recent interview that grenades are clearly being smuggled through the country's porous borders with Suriname, Brazil and Venezuela. He said that from appearances, Guyana is a transit point for this explosive device.
He noted that grenades are not the kind of weapon that the average criminal would use pointing out that it has a very destructive power and "If you don't know what you are doing you can blow up yourself." Morgan expressed the belief that grenades are not a cause of worry at this point. "I don't think that there is any indication that that this is a matter of urgency," he said.
He noted that grenades could possibly be linked to gangs. He said that grenades have not been used much here pointing out that "channa bombs" are a local choice and "that is just made up of gasoline, channa and a wick".
When Stabroek News asked Crime Chief Persaud if the grenades are being smuggled across the border he said: "we don't manufacture them here. The only legal ones are what the army has".
Speaking specifically about the St. Lucia bust, he said that it is possible that the grenades and other items could have been picked up along the way. "There is a lot of space between these two places. There is a lot of traffic out there," he said before stressing that the prevalence of grenades is small.
Around the Web