Not a day passes that Nadira and Nandkissoon do not think about their son, Constable Vickram Singh who was gunned down under "questionable circumstances" while manning the entrance to the joint services scheme on July 2, 2010.
More than a year after the incident, his parents are still haunted by the fact that the identity of a suspected key player in the killing is known but no efforts are being made to question him because of who he is. To this day, they still believe that their son was the victim of a carefully planned attack and was not killed by bandits as was being suggested.
A suspect had been identified but he could not be charged since there was insufficient evidence against him. Since thenthere has been no movement in the case. Police are still looking for evidence to link someone to the killing of one of their own.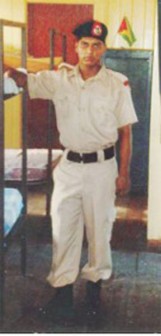 Stabroek News was unable to reach Crime Chief Seelall Persaud for an update on the investigation and for responses to some of the allegations being made against the force by Singh's parents.
Speaking to Stabroek News recently from their Berbice home, the couple outlined their frustration regarding the sloth of the investigations and the fact that senior security officials have refused to listen to them.
A  grief stricken Nandkissoon said that earlier this year he spoke to a senior policeman at Eve Leary and was told that persons were held but were released after questioning.
The man said that according to the rank, the investigation "ain't going any place and I tell he is nah bandit". Nankissoon is adamant that someone close to the force orchestrated the killing because his son refused to give up $5,000 from his monthly stipend.
He explained that his son was one week away from completing his training. He said that every trainee gets a stipend and usually Peter (not his real name) would take $5,000 from trainees to ensure that they are sent to good locations to work.
He said that the last time his son collected his stipend he was unable to pay the man because he ran out of money. "Is he set me son up fuh get kill. He threatened him before. Me son seh that he said that before he go back to Berbice he gon catch good sense," Nankissoon said. On completion of his training, Constable Singh was to begin duties in Berbice.
Following the incident, the man said that during a visit to Eve Leary, Peter's name was called numerous times leaving him to conclude that this man was indeed responsible, coupled with the fact that Singh had complained about the man before.
Nandkissoon said all the circumstances leading up to Singh's murder are suspicious and expressed surprise that senior police officers are not seeing that.
He said hours before he was killed Singh called home and spoke to him and his mother. Nandkissoon recalled to Stabroek News that the young constable complained that the person who was to work with him reported sick and no replacement was sent.
The man, now upset, said that the force was supposed to send experienced ranks to man the location, but according to the explanation given to him training was two-fold – classroom training and on-the-road training.
He said this was the first time Singh was placed at the Lamaha Springs locations where he was killed.
According to Nandkissoon, the conversation with his son that night ended with him saying that he would be relieved some time after 8 pm but by "9 pm they call fuh seh he dead", he recalled sadly. The man added that Police Commissioner Henry Greene later told him that three bandits were robbing a girl and Singh went to make peace. "How a police gon go and mek peace with bandit? I don't believe that explanation because if he din going to confront them he woulda get he gun and he walkie talkie. They believe is fools they talking with?" he asked angrily.
He said he was so frustrated with the police's lack of interest in the case that he wrote to President Bharrat Jagdeo twice last October seeking an audience with him. The man said he received two acknowledgement letters but to this date no appointment date has been fixed. He said he spoke to a secretary at the Office of the President who said that the matter is in the hands of the Ministry of Home Affairs. The man said an official there told him there was insufficient evidence.
"All of them know bout wha happen and that is why they ain't want to pick up the story," he said adding that he knew there was justice out there for him but "me nah get hearing nowhere. I ain't got money because if I had I woulda get a lawyer and fight them."
Evidence deleted?
Nandkissoon recalled that days after Singh's  murder, he asked for his cellular phone and was told that the phone was missing and might fallen when Singh was shot. The man said that he insisted that it could not have gotten lost as Singh always kept his phone in his hand or his pocket. If it was in his hand he said, it would not have fallen very far.
The man told Stabroek News that the rank he spoke with walked a few paces then turned back and said the phone was at the East La Penitence police Station.  "I ask he how much money he (Singh) had in he pocket and he said $5,000…" Later he found out that only $500 and the cellphone was found in Singh's pocket.
He said the amount given by the rank was the same sum that was demanded from Singh. That in itself, he said, raises questions.
The grief-stricken man said that when he later collected the phone, "all de numbers done wipe off". He expressed the view that Peter might have been the last person to speak with his son.
The man also expressed belief that Singh's relief was late that night for a reason which was to carry out the murderous plan. With the numbers gone, he said, the police cannot trace the last person that he spoke with which could have given a clue as to what led to his death and who committed or planned the act.
The man said too that he is upset at the empty promises the police made to them during the initial stages of his grief. "They seh how they gon look into it but they nah do nothing", he said.
Justice
His biggest desire is for Greene and Home Affairs Minister Clement Rohee to do more and to stop ignoring his attempts to reach them.
"I will try to dig up back this matter cause I want justice. Justice might not come because it look like Guyana nah got justice. Because yuh poor, you nah get hearing nowhere. How can a policeman mek peace with a bandit? Tek sense outta nonsense," he said.
Unlike her husband, Nadira says that she is doubtful that she would ever get justice. "I don't think that this case would ever be solved but I put meh trust in my Lord Jesus. He will give me justice," she said.
She expressed disappointment that the police have failed to investigate her son's death properly, pointing out, "you would expect that the Guyana Police Force would do everything to get justice and catch these people who killed one of their own." She said the police paying for the funeral and wake cannot bring back her son.
Nadira told Stabroek News that her son was excited to become a policeman and waited patiently until he attained the age that made him eligible to write the entrance exam. "It was he heart's desire," she said.
"I still cry for him — up to this morning. All de promises dat they made, nothing to this day. I am shocked at dat because I expected them to be more professional. They give us all assurance that they will work," she said sadly. Police had said that Constable 20740 Singh was shot and killed during efforts to apprehend the perpetrator of an attempted robbery. Based on the information, police said they received Singh observed the attempted robbery and responded. He was shot by an armed man who then ran away. He died while receiving medical attention at the Davis Memorial Hospital.
One resident told this newspaper one day after the killing that she saw a group of men running towards the entrance of the scheme and at that moment Singh, who was wearing his Khaki police uniform, was coming out of a shop located across the road from the security hut. The woman said that seconds later she heard three gunshots and when she peeped up the road she saw the policeman lying on the roadway. Some of the men ran into the scheme while the others turned around and escaped through a cross street, she added.
The woman said that from all appearances the men had just committed a crime and were trying to escape when they came face to face with the policeman. Some in the area opined that the men in their state of panic opened fire on the rank who was caught off-guard and was unable to draw his weapon.
Around the Web