The body of a Linden vendor was pulled out of the Demerara River yesterday after he drowned.
Dead is Safraz Khan, 30, of South Amelia's Ward, Linden. He was drinking with some friends at their usual place of business on Coop Crescent before moving with a few buddies to the river in the vicinity of Churches- a popular weekend liming spot.
According to persons on the scene, Khan and another friend went down to the river but it was not clear what happened next. The DeJoung ferry service is located nearby and according to a captain, "I heard a man scream and when I look around I see deh man go down but I didn't see he come up back."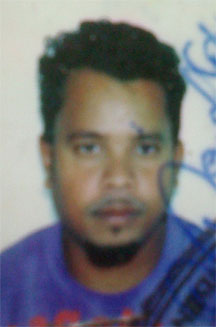 An alarm was raised resulting in a number of persons including the friend who went to the river and others they were drinking with, rushing to the scene. "I come up and I thought he was coming behind me," said a friend who was whisked away by police to assist with the investigations.
Another man said that he saw Khan throw himself into the water and the man was crying prior to this. Khan was pulled out of the water close to where he was seen by the boat captain.
Rescuers said that when Khan was pulled from the water, as they pumped his chest, he started breathing. He was quickly put into a car and rushed to the Linden Hospital Complex but he was pronounced dead a few minutes later.
At his South Amelia's Ward home, Khan's parents, siblings and other relatives wept bitterly.
According to relatives, recently Khan repeatedly said he wanted to die. They said that his frustration stemmed from his separation from the mother of his children.
Khan was well known by Lindeners as the watermelon man as he operated his business from a mini-bus at two locations on Coop Crescent.
Around the Web