Former minister of information in the PPP/C administration Moses Nagamootoo this afternoon announced that he has resigned from the Central Committee and as a member of the PPP with immediate effect.
However, he fell short of endorsing any other party saying that he was considering several options.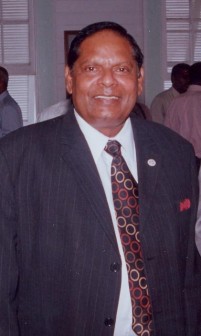 Nagamootoo, who first joined the PPP in 1964, formally indicated his decision to PPP General Secretary and presidential candidate Donald Ramotar. Accompanied by his wife Sita, Nagamootoo read the contents of the letter at a press conference held this afternoon at his office.
"I have lost faith in the current leadership," Nagamootoo said. "My association with the party has been compromised and I can no longer in good conscience remain on the Central Committee or serve as a party member," he added. "I will not condone or be a part of any bullying, corruption and authoritarianism, more especially when these decaying practices emerged inside the organization to which I had dedicated all my life and to which I have been given my finest efforts as activist, journalist and government minister," he said.
He indicated that the final act which influenced his decision was "the total breakdown in internal democracy" within the party in relation to the selection of its presidential candidate. Nagamootoo, who had indicated an interest in being the PPP's presidential candidate, had called for a system to be implemented where the wider membership of the party had a say in the selection of its candidate.
Nagamootoo had previously withdrawn from the PPP in 2005 following disagreements with the party's leadership. He, however, returned to campaign for the PPP/C in the 2006 elections. He served as a Member of Parliament for the PPP/C during the Ninth Parliament of Guyana.
The PPP this afternoon responded by saying that it was not surprised.
"Freedom House – The People's Progressive Party has today received a letter from Moses Nagamootoo confirming his resignation as a Member of the Party.
"This action comes as no surprise as Nagamootoo for a while has not been participating in the Party's bodies and activities.
"Nagamootoo's dissatisfaction with the Party was heightened after he failed to secure any support for his bid as the Presidential Candidate of the PPP/C for the 2011 elections.
"It is sad that he continues to make unfounded charges against the party's leadership as well as the Government.
"Today's action by Nagamootoo was predictable given his longstanding public dissatisfaction at not being supported by the membership and leadership for his bid as the Presidential Candidate, his efforts to secure a spot in Government in 2005 and the membership's non-support for him to be a member of the Executive Committee following his withdrawal from the body in 2005.
"The membership of the PPP will not be distracted by this latest Nagamootoo publicity antic."
Around the Web