By Shaun Michael Samaroo
in Toronto
Noting that he "still does not know why my wife was killed in Guyana", Bob Persaud, brother-in-law of slain government Minister Sash Sawh, made an impassioned plea for a change in government as he    declared his support for the Alliance For Change in Canada on Friday.
An emotional Persaud said his wife was brutally murdered in Guyana, and the government "refuses to hold a Commission of Enquiry into why a Minister and his family were so brutally killed".
Persaud urged the 300-strong Canadian-Guyanese audience to back the AFC and its leaders, Raphael Trotman and Khemraj Ramjattan.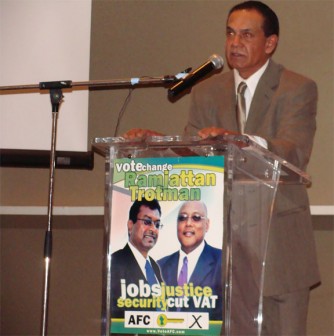 Speaking in a soft, grieving voice, Persaud was the surprise speaker at the AFC Canadian fund-raising dinner, held at the luxurious Destiny Banquet Hall.
The event was sponsored by controversial Canadian-Guyanese businessman David Singh, who also owns the banquet hall.
"Under the current government we see a drug dealer operating in every village in the country. When I left Guyana in 1972, I never heard of drugs. Now even children know about drugs in Guyana," Persaud said.
Persaud called on the gathering to ensure their relatives "back home vote for change, and stop voting along racial lines. Only the AFC can bring about good governance".
He said he is "not political. But after my wife was killed I realized how corrupted the country is now. Guyana is the third highest murderous country in that hemisphere".
"My wife was brutally killed in Guyana, along with her brother, Minister Sash Sawh, and to this day I don't know why," he said, as the audience listened in stunned silence.
Many in the audience knew Sawh as an avid campaigner for free and fair elections in Guyana when the People's National Congress governed.
Sawh was leader of the Association of Concerned Guyanese in Canada, campaigning to secure strong Canadian backing for the People's Progressive Party/Civic to win power in 1992.
Current leaders of the Association were in the audience listening to Persaud.
Sources said that a group of members of the Association have indicated that they would support the AFC-Canada organizing committee.
Persaud said the government has abandoned their original policies, and "Guyanese people are now scared. The country is now in chaos".
Organized by Canadian-Guyanese businessman, Malcolm Cho-Kee, the audience was treated to free dinner and non-alcoholic beverages.
Insiders say Cho-Kee is slated to appear on the AFC list of nominations for the elections. He has been doing a lot of ground work for the party in Canada.
Singh addressed the event, and refuted allegations "that I am a fraudster". He said everyone knows that he is a businessman who "made millions of dollars, and I do a lot of good for people in Canada and St Lucia. A lot of people have benefited from my work".
Singh publicly announced that he is "writing a cheque for $20,000 Canadian to the AFC". He said he refused to attend a recent PPP/C Toronto fund-raising event, even though he was personally invited.
Trotman, Ramjattan and Dr Richard Van West Charles also addressed the audience, with people responding favourably to the messages.
Trotman said Guyana has the reputation of being a "cocaine republic", and echoed Persaud's call for a Commission of Enquiry into the murders of Sash Sawh and his family.
He pledged that an AFC government will hold such an Enquiry, noting that a report in Stabroek News had stated that "there is a murder in Guyana every three days".
People attending the event openly declared their support to the AFC, with Trotman and Ramjattan receiving celebratory treatment, with many wanting to be pictured with them.
The messages of ethnic unity from all the speakers inspired the audience, with frequent applause interspersing the speeches.
It is time, Trotman said, "that the war which has divided us and kept us in under-development for 50 years ends. With Khemraj and I, that war has come to an end. It's time for a new Guyana, a new political culture".
Around the Web