AFC executive, attorney-at-law Nigel Hughes yesterday said that statements made by President Bharrat Jagdeo during an attack on him have implications for the independence of the judiciary.
Hughes was at the time responding to several "slanderous" statements made by President Bharrat Jagdeo, while the head of state was addressing supporters of the PPP/C at during a PPP/C rally on Saturday night.
Jagdeo accused the attorney of practicing racial politics. He also labelled the AFC member a "permanent retainer for the drug dealers" and added, "because of this he will never be appointed a senior counsel under me or I'm sure not under a Ramotar presidency."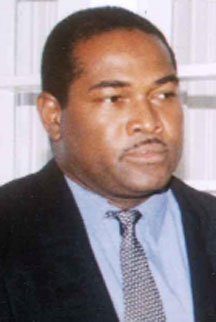 Hughes stated yesterday that the president's statements, "have confirmed a long-held belief in the profession that the conferral of the status of senior counsel by this present regime, is a political act." He compared the acceptance of the conferral of the legal status from the present administration to "asking Steve Biko to accept an award from PW Botha during the apartheid era."
Hughes said the president's pronouncements about the considerations for the "award of silk" have considerable implications on the independence of the judiciary and that they have been noted.
He said the professional oath of an attorney- at-law obliges one to represent his/her clients without fear or favour. "I have had the privilege of representing an array of clients including Mrs   Varshnie Jagdeo over the course of my professional life," he noted, while making a reference to the former first lady. He added that he did not require the President to validate his work as an attorney, which, he said, will speak for itself.
Hughes noted that the categorisation or classification of his clients has not been a concern of his since he is not retained as a "priest" but rather, an attorney-at-law.
He also said the fact that the administration found it impossible to identify someone of African descent who is qualified to represent the country at the level of ambassador at any international posting "is probably the most salient statement on the practice of racism in politics in contemporary Guyana." Hughes said too, "If His Excellency ever feels disposed to emerge from beneath the cloak of immunity I would be more than happy to engage with him in an appropriate forum at his convenience."
He added that should an occasion arise after the November 28 regional and general elections, that the president "may require appropriately qualified legal counsel whether from Senior Counsel or otherwise," he should not be constrained by his proclamations made on Sunday evening.
Around the Web