Dr Cheddi (Joey) Jagan (Jr) yesterday announced that he is considering returning "home" to the PPP/C, citing the party's presidential candidate, Donald Ramotar as the best option for president at this year's elections.
At a hastily called press briefing last evening at Freedom House, the leader of the Unity Party said the change in his support for the current administration was because there is disunity in the opposition. He said too, "in a lot of ways I would be going home."
Joey Jagan's son, Cheddi Berret Jagan II, has been working closely with the government through the Office of the President and the Unity Party leader said this was among his reasons for his latest considerations.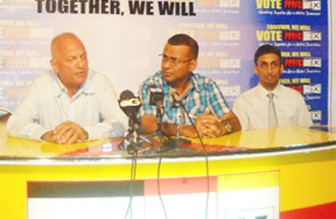 Joey Jagan, who was joined by his son and Minister of Agriculture Robert Persaud at the press conference, said he was not in search of "anything" from the present administration, adding that his imminent support is based more on the policies of the party.
In April this year he had stated in the letter columns of this newspaper that his party was going to be on the campaign trail in the lead up to the elections.
Joey Jagan has been a vocal critic of the current administration since a falling out with the party several years ago. He later formed the Unity Party and has been a regular associate with several opposition party figures at the last two general elections.  He has also been a regular guest on CN Sharma's 'Voice of the People' programme on Channel Six.
Around the Web