Vendors from approximately 100 stalls operating at the Stabroek Market in Section 5 have raised concerns about a two-day flooding which has caused a "major loss" after the valve of the koker broke during the high tide on Sunday.
When this newspaper visited the area yesterday, boards and pieces of wood had been placed along the corridors for easier access to the stalls. While vendors related that the condition had disrupted business for them, shoppers were seen pushing their way along the aisle.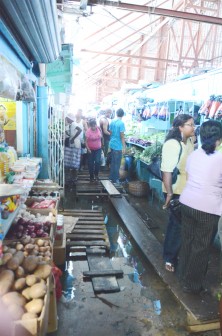 "This is causing a major loss because a lot of people don't want to come in here. Like they scorn de place," one vendor stated.
However, just an aisle away business had come to a complete standstill as many stalls were seen closed and deserted, as water in this particular area seemed to be at about 12 inches high.
"When the tide raise, water is come in, but the tide raise and drop and this water left here… the valve break and the water ain't getting fuh come out," one vendor noted.
"This is not the first time something like this happening… we made several complaints to the market authorities and they supposed to bring a pump since yesterday but like this pump coming from China," another vendor said irritably.
When Stabroek News visited the City Council's office located in the market, it was indicated that the only person authorized to speak to the media is the Public Relations Officer.
However, efforts to contact PRO Royston King proved to be futile.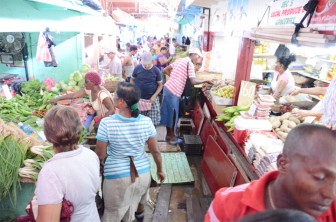 Around the Web