Pizza Hut's Vlissengen Road outlet was yesterday morning broken into and robbed of a flat screen television while the security guard was clueless until five hours later.
Operations Manager of KFC/Pizza Hut Guyana Mahindra Persaud told Stabroek News that after viewing camera footage of what had transpired, it was evident that a lone perpetrator entered the entity through the delivery window at 1:19 am. Upon noticing the cameras, he tried to hide his face by placing his shirt over his head.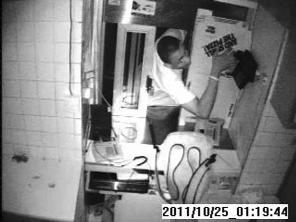 The man ransacked the restaurant in search of money, but according to Persaud, after noticing two flat screen televisions, the thief diverted his attention to the units. The televisions cost $180,000 each.
The television sets were ripped from the wall but it was apparent that the man did not have a getaway vehicle since one of the monitors was dumped in the garden outside.
The man exited the building at 1:33am.
Meanwhile, the on duty guard, who is attached to Didco's Security Service which supports all the company's locations, only noticed the break-in around 6:30am, when he reported the break-in to his manager.
Workers then awaited the arrival of the police as they were afraid of disrupting any evidence that the perpetrator may have left behind.
Persaud indicated that the guard had told the police that he was not sure about what he was doing at the time. "He was probably asleep or somewhere where other guards were…across at the gas station or at KFC across gaffing or something," Persaud said.
Police are said to be investigating the matter.
The Operations Manager also stated that the same location had suffered a robbery earlier this year, where the perpetrator escaped with some amount of cash. The police had no success in that instance.
Around the Web