In the latest of a raft of political re-alignments with general elections just over a month away, The United Force (TUF) has joined up with The Alliance For Change (AFC).
A statement today from the AFC said  that TUF under the leadership of Valerie Garrido-Lowe has joined forces with it.
The announcement sets the stage for a continuing battle between the Garrido-Lowe-led faction of the TUF and the other controlled by former leader Manzoor Nadir. The two sides have been engaged in a no-holds barred contest that has spilled into the courts.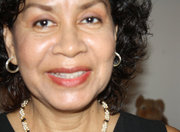 Garrido-Lowe had been trying to steer the party away from the alliance with the ruling PPP/C that Nadir had forged. The struggle between the two factions began in earnest when Garrido-Lowe sought to have Nadir give up occupancy of the TUF seat in Parliament.
The AFC statement today said it "is pleased to announce that The United Force, under the leadership of Ms. Valerie Garrido-Lowe, a strong woman long admired by the AFC,  has joined forces with the Alliance for Change and will be contesting the November 28 General and Regional Elections as a united alliance.
"This decision was made at an Executive Meeting held on Saturday, October 22, 2011 and an agreement was finalized at a high level meeting last night at the AFC's headquarters.
"The United Force recognizes and states that `the Alliance for Change Political Party is the only Party that has the same and similar policies and programmes for the betterment and upliftment of all Guyanese. Hence, a partnership at this time, when our brothers and sisters of this beautiful country, need our support at every level in their lives, we will not disappoint them.  We have listened to them and now we have respectfully answered their call'".
Around the Web