(Trinidad Express) A sleep-deprived Project Runway winner Anya Ayoung-Chee said yesterday she was relieved to "finally share her amazing secret with the planet".
Speaking with the Express, even as she faced the maelstrom of the US media yesterday, Ayoung-Chee confessed that she had not gotten much sleep over the past 48 hours, but was looking forward to all the opportunities that lay ahead.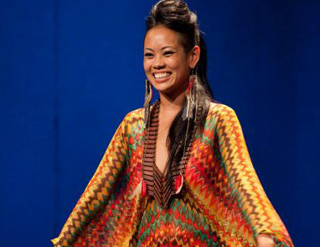 "The past two days have been a whirlwind, you know. I feel like I haven't slept in ages, but I've been so excited to share this with my country and the world that it's been fuelling me and keeping me awake and alert.
"I think if everyone had that US$1 million penalty hanging over their head, they would have done a good job keeping the results a secret as well, but it was really hard."
The 29-year-old former Miss Universe delegate said she intends to use her winnings to produce, market and establish her brand in the industry, but will share her Fan Favourite prize of US$10,000 with her closest rival for the Project Runway winner title, Anthony Ryan Auld.
"I have had my line for a while now, but this will enable me to fund it in terms of manufacturing, marketing and being able to break into the US market—it's pretty much all going to go toward that.
"As for the Fan Favourite money, I decided to give half of it to Anthony Ryan's Rock One Movement because I figure we were so close coming all the time that it was kind of like a tie.
"Not officially, because the beautiful people of Trinidad and Tobago really won it, but I think it was so great for us to have won the title that the money can be shared because we both have great causes."
For her victory, Ayoung-Chee has earned US$100,000 from L'Oreal Paris to start her own line, a fashion spread in Marie Claire magazine, a US$50,000 technology suite by HP and Intel and the opportunity to design and sell a collection on Piperlime.com.
She also pocketed US$10,000 after being declared the Fan Favourite designer from votes cast on Twitter, as well as an additional US$10,000 and other showcase opportunities for winning previous challenges during the season.
Thousands of Trinidadians and Tobagonians were glued to their television sets on Thursday night, when Ayoung-Chee beat three other designers to take the top prize on the American reality show.
Due to a special showing on local television, those without cable service were able to view the finale of Project Runway, which aired this season on The Lifetime Network on Thursdays and on local television on Fridays.
Ayoung-Chee, of Maraval, beat designers Viktor Luna, Joshua McKinley and Kimberly Goldson to become the winner of season nine of the series.
Her victory came after a disappointing turn on the runway last week, which was judged by core panel comprising supermodel Heidi Klum, designer Michael Kors and Marie Claire fashion editor Nina Garcia.
Prior to being judged, Ayoung-Chee had been visited in Trinidad by mentor Tim Gunn, who was worried when he found Ayoung-Chee with two weeks of work time left and very little work done.
Back in New York, Ayoung-Chee's collection received bad reviews from the panel, but the judges decided anyway to send her to the Mercedes-Benz New York Fashion Week as one of the final four
The collection shown at Fashion Week was, however, a hot hit with the judges, including guest judge designer L'Wren Scott, who said she loved the pieces, despite the fact that she would have trouble wearing the dresses in a non-Caribbean atmosphere.
The other judges also said they loved the "vibe" of the ten-piece collection, called Tobago Love, which Ayoung-Chee said was inspired by the sister isle.
The collection consisted mainly of maxi dresses and included a bathing suit and cover-up.
The palette ranged from tans to floaty sea-foam blues and greens and despite the judge's trepidation with the fact that Ayoung-Chee presented many dresses, which mostly sported V-necks, all were in praise of her cutting skills.
Judge Klum announced Ayoung-Chee as the winner in the same low-key manner that challenge winners were announced throughout the season, at the end of the show.
The judging had come down to Ayoung-Chee and McKinley, who maintained his displeasure with the judging after leaving the runway.
Following the announcement, Scott told Ayoung-Chee she had "an amazing female voice" and a distinct point of view.
Ayoung-Chee thanked Klum for showing confidence in her throughout the show and said she had trouble believing the experience was real.
She was joined on the runway by her immediate family, who were also in the audience at Lincoln Center for her Fashion Week showing.
Around the Web