Two boys aged 12 and 13 drowned after they ventured into the Demerara River for a swim on Wednesday.
The body of Devendra Mohabir, a 12-year-old Covent Garden Secondary School student of Lot 176 Niles Street, Grove, East Bank Demerara, was found around midday yesterday, floating in the Demerara River, in the Ruimveldt area.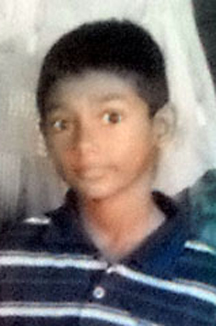 Mohabir and Ronaldo Henry, 13, whose body was found today, went out to swim on Wednesday afternoon, close to the former's home.
According to reports, Henry's body was taken to the Lyken's Funeral Parlour around midday today.
Mohabir's grandfather, Pharbudial Bhanohar, called `Peppi', told Stabroek News that on holidays the lad would usually visit a game shop in the street, and it was there that he met with the other two boys. He said that Mohabir left home as usual for the game shop, and sometime around midday his grandmother saw him enter the yard then retrace his steps a few minutes after. That was the last time any of his relatives saw him alive.
With Mohabir still to return home, by 8 pm his family began enquiring around the neighbourhood. It was then, Bhanohar said, that another youth came forward and related that he, Mohabir and Henry had gone swimming in the river that afternoon.
Bhanohar said the surviving young man told him that while they were swimming, the water became rough and started to pull Mohabir away, so he held on to Henry's foot "and they both went down." This newspaper understands that after realising what had transpired, he at first ran to get help but became scared and ran and hid. Persons residing close to the sea dam area where the boys had ventured to swim also related to Mohabir's grandfather that some time around 3 pm, they saw three boys on the dam about to take a swim, and shortly after they saw only one of them who appeared to be hiding some clothing and they thought that the boys were playing a game.
 'Run away'
Maylene Ramit related to this newspaper that her son, Henry left their Lot 116 Regent Road, Bourda home for school on Monday but did not return after school hours. She explained that she and the boy's father had recently separated, resulting in her moving with him from their former home in Grove, East Bank Demerara. She said that after Henry failed to return home after four, she called a friend in Grove and enquired about him, but this proved futile.
The woman said she later learned from another friend there that he had been spotted and told to return home, "and he said yes he will" but he did not.
After he still failed to return at around 9 that night, Ramit said she travelled to Grove, where she found Henry sitting close to a shop in the area. "I ask he, 'baby what you doing here,' and he said he want go by his father," she said.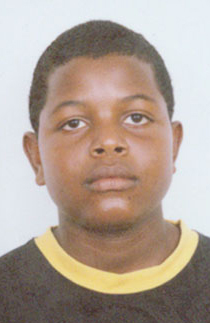 The pensive mother then related that she did not take the lad to his father's house but returned to Georgetown with him. "We come back to Regent Street round 11.30 and I call my daughter to open the door and by the time she come down to open the door, he run 'way. I try running behind he… he turn North Road and disappear," she said. The woman said that after Henry ran away, she and her daughter searched the park and even went back to Grove but to no avail.
Ramit said she searched for her son the whole of the following day and even made a report to Eve Leary, then the Alberttown Police Station.
The police at the latter, she said, promised to send out a missing person report.
Still not getting word on her son, Ramit said on Tuesday night she went back to Grove and was pointed out to a game shop in Niles Street, where a boy told her "he jus turn the corner. Then I see he walking coming with some friends. So I turn to he and say Ronaldo come let we go home, and he start backing to back, and even he sister start saying 'boy what happen to you, mommy calling you let we go home.'" But the lad retreated and again ran away. That was the last she saw of her son. She was later told that he was seen catching a red bus out of Grove, so she decided to pursue, but still to no avail.
Ramit said she visited the Grove Police Station twice; the first time to ask assistance in searching for her son, and the officer in charge told her "he cannot abandon the station to come with me to look for my son, and there were other officers there".
The second time she said she pleaded with the officers there to alert the Providence and other stations to lookout for the red bus and stop it, but she was again denied and further refused entry into the commander's office, as he gave instructions that he did not "want to see anyone." The woman tearfully stated that if the police had only come out to assist in her search or alerted the other stations, "meh son woulda find today." She added that her son could not swim and would seldom venture near water, "all when we went creek he went in the shallow all the time."
Meanwhile, a post-mortem examination is expected to be performed today on the body of Mohabir.