An elderly Guyanese woman died in her Bronx home over the weekend after a power outage caused by a snowstorm shut down her oxygen machine.
According to the New York Daily News, Kheowla Ramprasad, 77, died Saturday evening at her Heath Avenue home.
The report said that the Guyanese matriarch suffered from a heart condition and diabetes. A nursing service had set her up with a daytime aide and oxygen support two weeks ago, relatives said.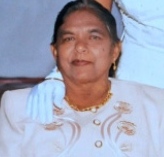 "She was a very, very good person. It's sad that this is the way she passed away," said her daughter Shala Mahmood, 50.
"She was sick but she was doing okay. Once she couldn't breathe that generated all the other problems."
Mahmood told the Daily News that power was off and on in the house all day during Saturday's storms and went off completely before 5 p.m.
Within minutes, she said, Ramprasad began struggling to breathe and they called paramedics, relatives said.
Her Visiting Nurse Service aide tried looking for a flashlight to set up a backup device that does not need electricity, said her son Anoop Kalicharan.
"It was already too late. She needed oxygen," said Kalicharan, 57.
"We're angry that the lights went out . . . I assume the aide was trained and did what she was supposed to do."
The report said that Ramprasad went into cardiac arrest before paramedics arrived at 5:07 p.m. Emergency medical technicians worked in the dark for an hour but were unable to revive her.
Relatives told the Daily News that Ramprasad, a retired factory worker with 12 grandchildren and seven great-grandchildren, was referred to the nursing service by her doctors at Montefiore Medical Center.
Around the Web