(Jamaica Gleaner) By his own admission, Christopher Tate was twice imprisoned and twice deported from the United States, after languishing behind prison walls in that country under a suicide watch.
Tate recounts how, as an adventurous teen, obsessed with "foreign", he found himself in countries of Central America; other Caribbean islands and the deepest recesses of Europe – that is before his life was transformed.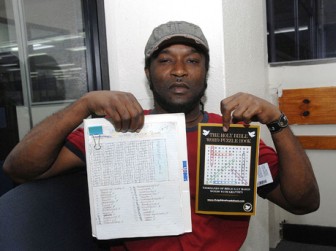 Twenty one years later, Tate tells The Sunday Gleaner that he has put an ugly past behind him as he moves determinedly to motivate youths surviving in vulnerable conditions.
Tate was behind bars when his first child was born, and then dumped unceremoniously in Jamaica to face untold grief at the sudden and tragic loss of a sister.
At age 39 and staying at Text Lane in downtown Kingston, Tate is working hard to mend the broken pieces of his life.
He spoke about a previous existence marred by anger, depression and resentment that would change to one of inspiration, as he became a prolific creator of a series of "The Holy Bible Word Puzzle Book".
Tate is convinced that his roller- coaster life was transformed by none other than the hand of God.
"He is a motivation to other young people, asserted his long-time friend Norman Moore", also a deportee, who lives in Central Kingston.
"I knew him (Tate) through one of his cousins as a child," revealed Moore. "He is a double deportee and I am a single deportee," he chuckled. "I was there for a while, our aim now is to try to get the youths around us to be more positive in their outlook, to prevent them from making the same mistakes that we made."
Harbouring high hopes
Tate, who was last sent back to Jamaica just over a year ago, has created 20 Christian puzzle books, some of which have been published. Still struggling after his last "dip" to Jamaica, he harbours high hopes of getting the others published.
Some are already on the stands at a local bookstore, but Tate says he is hoping to get Jamaicans to know his work better.
Tate recalls that he first found his way into the United States at 17 years old in 1990. "I came back to Jamaica in 1995, and then I went to Europe and back to Jamaica, and I have been travelling through the Caribbean mainly to the Cayman Islands and The Bahamas."
The artist said he returned to Jamaica in 2003 before going back to Belize, where he got married and went from there to the United States.
"When I reached the US, I was without money, in Los Angeles for three days and so desperate that they almost arrested me (because of my actions)," Tate said.
He recalls how he begged a woman a bus ticket to New York but he was given one to Hollywood, Los Angeles.
"They attempted to throw me out of the bus station, but I refused, and without funds, boarded the bus to New York," Tate reminisced with a rueful smile. "Three days on the bus as a stowaway ended when on reaching New York, some friends came and took him to Arizona; this is where my life changed."
He said all was going well, financially when he met a girl and soon after, his world came crashing.
It was in 2003 that he had his full taste of jail in the US. He said he was living in Tucson, Arizona at the time. "To tell the truth, I was keeping good company and bad," he told The Sunday Gleaner.
Tate said he soon got "connected" with a young woman, but soon ended in trouble as he was convicted of kidnapping his girlfriend, her sister and a child. He said he also lost US$300,000 through theft.
Tragic news
His claimed that his girlfriend had, after an altercation, complained to the police that he had kidnapped them. In the end, Tate said he spent two years in prison, while his estranged girlfriend gave birth to a daughter.
That was when he began to dabble with the idea of creating puzzle books. Tate said he was successful at completing a first book.
Remarkably, Tate said his first drafts were exclusively by hand as he had no computer "I worked 15 to 20 hours a day, for six months while I was in lockdown for defending myself in a fight."
After his three-year prison sentence, he was deported in 2006.
"As I reached the airport in Kingston, I was greeted by the news that my sister was killed by gunmen," he said. "Some guys were chasing someone else and she was in the way, and both were gunned down. So I had to come and bury my sister …," Tate recalled.
He said after the ordeal of his sister's death, he left Jamaica once again for Belize. This time he got married. "During my honeymoon, I met some guys that I had first met in immigration (US years before) and they told me they are going back to US in five days."
For a third time in his life, Tate found his way back into the US. "I had left my first book, still to be published in Belize, and a year later when I was in the US, I was talking to a new girlfriend whom I had met there.
He sent for the book in 2007 and began working on it in earnest. It took a lot of time and money, I knew nothing about books, made a lot of mistakes, learnt the hard way and it cost me a lot, but eventually, I completed, but crashed into a new stumbling block – publishers who failed to deliver.
Desperate, Tate said he opened his own publishing company with some partners. However, he said that approach did not work out. "Here I am in America, I am paranoid, I am not straight (illegal), I am not comfortable, I am doing work that I need freedom to explore, so I decided to return home in 2009."
Tate said he packed a flight, took everything he owned and boarded a flight to Montego Bay, but that was not his last time in the US.
"I moved back home for one year, my responsibility in US started to be a strain on me in Jamaica so I decided to go back in 2009," recalled Tate.
"I went to Barbados, returned home, then went back to The Bahamas; left The Bahamas on a huge liner to the United States at West Palm Beach. But his luck only worsened in the US. "As soon as I got to West Palm Beach I got arrested, they gave me four years, the judge saw the book and eventually granted clemency, and I got 18 months," Tate explained.
He said he went to prison for only four months when the deportation procedure was completed. "While I was in the system I tried not to waste any time. I wrote 15 books, written and designed, ready for publishing right now," he added.
Around the Web