(Trinidad Express) A 40-year-old man described by his relatives as the "Godfather" of the Maturita Extension community in Arima, was gunned down just outside one of his business places on Saturday evening.
Wayne Blanc, the father of one, was reportedly sitting outside his parlour, Blanc Cafe, when a lone gunman, with a hat pulled over his face as his only disguise, walked up to Blanc and pulled the trigger once.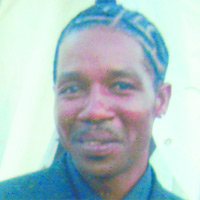 The killer, who struck just after 7 p.m. then walked away, firing another shot indiscriminately to chase away whomever was left lurking around following the killing, relatives said.
Blanc lay bleeding from the right side of his head.
According to Blanc's wife Margaret Castillo, her husband was an "over-friendly, over-giving and over-loving man", who not only operated his parlour but had two scrap iron businesses where he employed young men from the area and he was a farmer as well.
Speaking with the media at the family's home, Blanc's sister Sharon Blanc said her brother was every child's godfather in the community, adding that whenever someone wanted to earn a day's wage her brother's scrap iron business was the place to turn to.
"He not in war with anybody, he had no grievance with nobody… he had thing with them fellas in the area but that was long time ago.
"I just want to know why, they take nothing from him," Blanc said, adding that her brother was the type of man who would even willingly give to people who were not kind towards him.
Blanc's sentiments were echoed by her sister-in-law who said her husband was probably envied and that was the motive for his killing.
Adding to the confusion of their loved one's death was the killing of another man, who lived one street away from Blanc. The man, Kellon Charles, was shot multiple times just after leaving Blanc's wake.
Charles, 23, was killed along a track leading to his Hill View Avenue home police said, around 7 a.m. yesterday .
The welder was described as a "quiet" youngster by his neighbours.
Blanc's relatives say Charles' killing should not be viewed as a reprisal since no one from within the community would want to kill Blanc, who was willingly providing them with employment.
They added that the gunman was not from the area. They said the two victims knew each other but had a customer-to-businessman type relationship, which occasionally spilled over into a lime, buddy- type relationship.
Relatives of Charles were not at home when the Express visited yesterday. The two killings push the murder toll to 313 according to an Express tally.
Around the Web