(Trinidad Express) The force of raging flood waters from the Maraval River tossed cars like toys along the Saddle Road yesterday following a brief but persistent downpour.
The sudden surge trapped motorists in their cars and left many marooned in their homes and business places.
Fire Service personnel rescued 12 pupils and two teachers from the Little Leaders Pre School, taking them to safer ground at the nearby St Clair Police Station.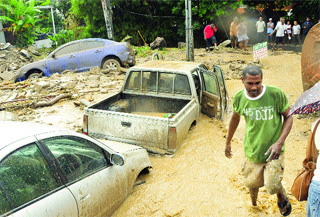 The Office of Disaster Preparedness and Management (ODPM) later advised parents to pick up their children at the police station.
The flooding took place as work crews were busy cleaning up other areas of West Trinidad which were affected by Saturday's flooding.
Up to press time last night fire officers and employees of the Diego Martin Regional Corporation and other agencies were working feverishly along Saddle Road in a bid to get the road cleared so that frustrated residents could get home.
By late afternoon the Public Transport Service Corporation suspended its service to Maraval, Blanchisseuse and Morne Coco Road.
Traffic heading west snarled to a stop as people headed home after work.
A contractor, employed with Kallco Ltd, said he was heading along Morne Coco Road shortly after 2 p.m. when the Maraval River burst its banks.
Chaos erupted as raging water almost swept away cars, with drivers and passengers, as the torrents of floodwaters surged across the roadway.
"It happened in a split second, before you know it, water was raging onto the road and people were trapped in their cars, we had to send the tractors to rescue these people," said the contractor, who spoke on condition of anonymity.
He said in the vicinity of Adam's Bagels, along Saddle Road, machinery deployed to do work at a WASA project was diverted to help push the cars out of the way to prevent them from being swept into the river.
"There was madness, a long line of traffic and just water. The place was in a mess, it was as if a mini tsunami passed," he said.
Residents of La Sieva, Maraval, said that around 2.30 p.m. a retaining wall located adjacent to a house at Upper Third Street, which is off the Saddle Road, broke, sending down torrents of water onto Saddle Road.
A resident said, "it look like thick cowheel soup coming down there", as he described the muddy water as it ran down the hill.
Joseph Portillo, of Diego Martin, told reporters he was seated in his Nissan Almera around 2.30 when all of a sudden he heard a loud crash. He got out to see what happened.
"Well, what really happened everybody stopped and was watching what going on, how the road was blocked and it's a good thing we came out and was watching what was going on in the road and we wasn't in we vehicles," he said.
"We hearing the water coming down and when we looked back it's because we saw big stones and water coming, so we just had to move out the way because the size of the big stones and them, we just had to move and the big stones and the water just started to move the cars. Look where a car end up … by the lamppost there".
Victoria Talma who was seated in another car, a Mazda 3, said, "I got out to see why the road was blocked and my friend, Damien Richards (the driver) still tried to get past the Almera (Portillo's car) when the water came crashing down. I screamed to my friend… 'get out the car'."
Richards managed to get out in time.
There was also reports of flooding in Dibe, Long Circular, parts of lower Maraval and Ellersie Plaza was also under water.
The ODPM also advised that the La Sieva Village, Maraval Community Centre has been activated as a shelter.
The North Diego Martin Community Centre and the Belle Vue Community Centre in St James were also opened to facilitate those from the area who have been adversely affected.
Around the Web