Arawak Anglican priest John Peter Bennett, who was known for his compilation of an Arawak/English dictionary and was awarded the Golden Arrow of Achievement, died last week.
According to the Anglican diocese, Bennett was born to Jacob and Elsie Bennett at Cabacaburi Anglican mission on the Pomeroon River on November 30, 1914. He attended the St Matthias' Primary school and by the age of 12, he had completed his schooling. With a smattering of English, he advanced himself by reading "anything that had writing onit." As a young man, Bennett was employed as a driver for the outboard engine on the mission boat belonging to the Reverend Hirst because, as he put it, "Father Hirst had a lot of books and that was the attraction."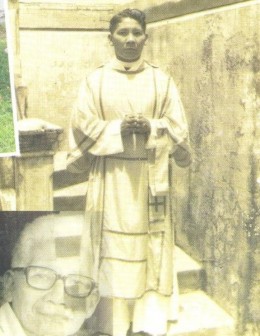 In 1946, Bennett was sent to Codrington College, Barbados, giving him the distinction of being the first Amerindian priest to attend Codrington College. Upon completion, he was ordained a deacon on July 24, 1949 and a priest on September 18 of the same year. He was installed a Canon of the Stall of David in 1976.
Bennett was worried about the future of the Arawak language and his concerns led to the compilation of an Arawak/English Dictionary, a teaching guide with 28 lessons in Loko/Arawak, the translation of some of the Gospel books into Arawak and the publication of The Arawak Language in Guyanese culture. His work in the indigenous language brought him much acclaim and in 1989 Canon Bennett was awarded the Golden Arrow of Achievement.
A book of his correspondence with Richard Hart edited by Janette Forte, Kabethechino: A correspondence on Arawak was also published.
Canon Bennett served as a priest in New Amsterdam, Bartica, Rupununi, Moruca and at home at Cabacuburi. He was married to Clara and had two children, Jennifer and Maurice, seven grandchildren and five great grandchildren.
Around the Web