(Trinidad Guardian) A couple believed to be Israelis—who entered T&T soil with fraudulent passports—has escaped five months after they were put in a hotel under security watch at Caribbean Airline's (CAL) expense. The five months the duo spent at the hotel, CAL paid for their accommodation and meals, racking up a hefty bill. The couple escaped on November 20, from Comfort Suite Hotel, Piarco, while being guarded by CAL's security, days before Prime Minister Kamla Persad-Bissessar said that police thwarted a plot to assassinate her and four members of her Cabinet. Concerns have been raised by well placed national security personnel over the manner in which the matter was handled.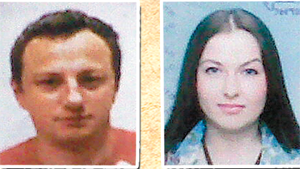 Though their passports were seized by Immigration Division, it is not sure if the wanted couple fled the country using false passports or are still hiding in T&T. The 28-year-old woman identified as Anastasia Kurakin along with her 34-year-old male counterpart Robert Ochakovsky, landed at the Piarco International Airport from St Maarten on June 6, with false Israeli passports. The passports were issued on January 26, 2004 in Rishon Lezion, Israel. The duo—pretending to be a husband and wife team—were destined for Canada, but was intercepted in St Maarten after being pre-checked. "St Maarten did not do anything with them so they came here (Trinidad)," a source said.
Put on alert by St Maarten's Immigration, the couple were picked up by security officers after they attempted to board CAL flight No 600 to Toronto, Canada on June 7.  That was after they had spent some time in Trinidad. Upon checking, security officers discovered that the photographs on the couple's Israeli passports were totally different to their person. "They were handed over to immigration department who was a bit sceptical as to whether their passports were legitimate or not because the couple kept threatening to take legal action for detaining them. They had people claiming to be lawyers calling immigration for answers," a well placed source told the Sunday Guardian.
Immigration then gave orders that they should be placed in CAL's care under security watch, instead of taking them to the Ministry of National Security's detention centre. The source said in order for CAL to intervene, a Rejection Order should have been issued by Immigration Division. However, this was not done. "Once a passenger overstays his/her time or is a threat to the country, you are put on the next available flight," a source said. Without a Rejection Order, the source said, CAL cannot be held responsible, fined or placed on a bond for their actions. "All the airline was doing was following instructions by Immigration," the source said. By then, information obtained from intelligence, the source said, suspected that the couple are Russians.
Special Branch, Index and other agencies were notified of the couple's fraudulent documents and detention, the source added. The impostors were handed over to CAL security, pending correspondence from the Israeli Government to determine their true identities. Posted on the wall at Immigration office were the couple's true identity along with images of their fake passports. "This meant that Immigration had information of who the holders of the passports were. These people should have been locked up and prosecuted. You cannot have things like this pushed under the carpet. One slip can put our country at risk because you don't know who is who out there," the angry source added. The source said they are still baffled as to how the couple escaped. "We don't know how they absconded. Knowing that they have been under watch for this length of time and are well financed it would have been easy for them to corrupt someone. That is my suspicion."
The source said the couple knew of the security's operations and made a pretty clean escape. Nicholas to launch investigation. Contacted yesterday, CAL's senior security Kurt Gould refused to comment. Efforts to reach National Security Minister John Sandy proved futile. Transport Minister Devant Maharaj said he could not comment as he had no facts on the matter. CAL's chairman George Nicholas III said he was not aware of the matter. "That would be an Immigration issue." Told that CAL were the ones that put the detainees at the hotel, he added: "I am not aware of that. I am not aware of the specifics. I do know that we are increasing our security." Nicholas promised to launch a full-scale investigation into the matter.
Around the Web