Barbados' Tourism Minister Richard Sealy has led a 135-person contingent from his ministry to Guyana for a weekend retreat.
According to the Government Information Agency (GINA), the retreat is part of a fact finding mission and Minister Sealy expressed appreciation for the warm welcome which he stressed was given even before the contingent arrived in Guyana. He indicated that the trip to Guyana is a fact finding one since the two countries have two different tourism packages to offer.
Sealy emphasised that he has a very aggressive definition of tourism, which is not merely about getting people from near or far to visit a particular jurisdiction or to leave money and return to their homes but, it is an exchange  of cultures, GINA reported.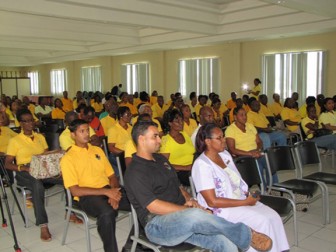 He pointed out that his Ministry is working on having a package where tourists are able to visit multiple countries, thereby giving them the thrill of experiencing varying cultures, sights, cuisines and hospitality.
The Ministry of Tourism and the Guyana Tourism Authority held a welcome ceremony, at the Princess Hotel, Providence, for the delegation yesterday.
GINA said the visit would allow Barbadians the opportunity to taste some aspects of local tourism product, inter-mix and relate with the Guyanese, enjoy Guyana's hospitality and learn more about the country. It added that the members of the contingent would be able to sight see and shop in the city and will be taken on a trip to the Arrow Point Resort, courtesy of Captain Gerry Gouveia, who also functions as Honorary Consul to Barbados.
Director of the Guyana Tourism Authority, Indranauth Haralsingh, noted that the Barbadians have chosen destination Guyana although the elections were completed only Thursday. This, he said, is testimony of the confidence they have in Guyana.
Haralsingh indicated that the entire contingent travelled to Guyana on one flight with Red Jet, which has paved the way for more interregional travel. "This could be the start of an amazing partnership and cooperation in tourism and other areas between Guyana and Barbados," he added.
Around the Web