President Donald Ramotar yesterday swore in 20 ministers of government, which saw five newcomers and a new Ministry of Natural Resources and the Environment, while portfolios were exchanged among several holdovers from the previous administration.
The first Cabinet meeting took place yesterday afternoon as the President said he wanted to have the work of the new government get up to speed quickly.
The swearing-in took place at State House, two days after President Ramotar took the oath of office. Former president Bharrat Jagdeo was absent from yesterday's ceremony.
The Cabinet comprises Sam Hinds, Prime Minister; Irfaan Ali, Minister of Housing and Water; Dr Frank Anthony, Minister of Culture, Youth and Sport; Ali Baksh, Minister within the Ministry of Agriculture; Robeson Benn, Minister of Works; Carolyn Rodrigues-Birkett, Minister of Foreign Affairs; Bishop Juan Edghill, Minister within the Ministry of Finance; Dr Nanda Gopaul, Minister of Labour; Priya Manickchand, Minister of Education; Anil Nandlall, Minister of Legal Affairs and Attorney General; Ganga Persaud, Minister of Local Government; Robert Persaud, Minister of Natural Resources and the Environment; Leslie Ramsammy, Minister of Agriculture; Bheri Ramsaran, Minister of Health; Clement Rohee, Minister of Home Affairs; Dr Ashni Singh, Minister of Finance; Pauline Sukhai, Minister of Amerindian Affairs; Jennifer Webster, Minister of Human Services and Social Security; Dr Jennifer Westford, Minister of Public Service; and Norman Whittaker, Minister within the Ministry of Local Government.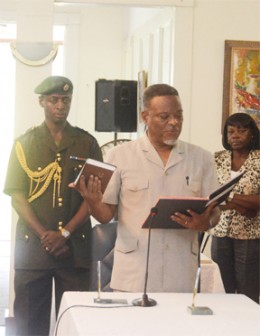 Ali, Anthony, Benn, Rodrigues-Birkett, Rohee, Singh, Sukhai and Westford retained their previous portfolios in the Cabinet, while Robert Persaud was moved from Agriculture to head the new Natural Resources and the Environment. The new portfolio takes some responsibilities from the Prime Minister's portfolio and the Office of the President.
Former long-serving Health Minister Ramsammy, as the head of Agriculture Ministry, will face questions over his ability to manage the sector, where Persaud's much-hyped Grow More Food campaign has been criticized, while the sugar industry and its flagship Skeldon factory remain in a dire state.
Baksh, Edghill, Gopaul, Nandlall and Ganga Persaud are the new additions. Baksh is a PPP/C stalwart and former Region Two Regional Democratic Council Chairman; Edghill is former Chairman of the Ethnic Relations Commission and the Guyana Post Office Corporation; Gopaul is former Permanent Secretary in the Office of the President; Nandlall, served in the Eighth and Ninth parliaments and is Jagdeo's personal attorney; while Ganga Persaud was a former permanent secretary in several ministries and a member of the Public and Judicial Service Commissions. His predecessor, Whittaker, will now be serving under him in the ministry.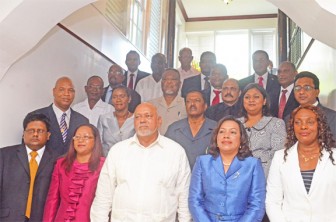 Ramsaran, prior to his appointment, was minister in the Health Ministry, while Webster had been the minister within the Finance Ministry.
Those left out of the new Cabinet were Shaik Baksh, former minister of education; Manniram Prashad, former minister of tourism, industry and commerce; Manzoor Nadir former minister of labour; and Charles Ramson former attorney general. Nadir had previously brought one seat to the PPP/C in Parliament but this year his former party, TUF did not make it into the House.
No ministers of information and tourism were announced. But Stabroek News was reliably informed that while ministers have not been named as yet, it does not mean that those ministries are not included in the administration. Jagdeo, prior to the elections, retained the portfolio of minister of information since if no minister is named for any of the vacant Cabinet posts, then the President constitutionally holds the portfolio.
'No slowdown'
President Ramotar expressed confidence in the team and urged them to dedicate themselves to the task of nation building.
"I have every confidence in this team that I have just sworn in. Some of them who have been here before will continue the dedication that they have shown previously in their position and in the new positions that they now have. And those who are coming in for the first time I want to say that you have a good team of people, experienced enough, who will help you along," he said.
Ramotar said that even though there will be problems along the way, "we will work to overcome them in the interest of the welfare of our people and the development of Guyana."
He said the most important matter at present is to get the government functioning, "because we can't afford to have a slowdown." He added, "We want to keep the country going and so I am trying to work as fast as I can in that regard. We will have meetings. We have to work. We have to talk with the opposition… Our intentions will be made clear."
Asked whether the Prime Minister has been left without a portfolio given that natural resources is now with Minister Persaud, the President explained that he still retains parliamentary affairs and energy, and suggested that with the advent of hydropower, the Prime Minister's hands will be full. "We have to look at alternative forms of energy, co-generation, wind power, solar power. In fact, I feel that energy can become an industry by itself," he said.
And Prime Minister Hinds announced his readiness to get on with the work ahead. "What is striking [to] me is that we have quite a bit of infrastructure in already and I think that we can work and provide each other an even better life than what we have. For example if we want better health services, then those who are in health services can try to do a better job  [in terms of] delivery. Those of us in education have to do a better job at delivery. So I think that this is my focus," he said.
Hinds has been Prime Minister in the four previous PPP/C governments since 1992, with a brief stint as President upon the death of Dr. Cheddi Jagan in 1997.
Nandlall debunked the notion that he is not qualified for his new post. He acknowledged that in Guyana, the convention has been that only Senior Counsel have been appointed Attorney General, but said that this is by convention only and not a mandatory requirement."If you look around the Caribbean you will see many countries have appointed persons to the position of Attorney General who have not held position of Senior Counsel. But that is neither here nor there. It is a question of competence and a willingness to work and the ability to get the cooperation of the stakeholders and I will work hard to get the recognition of the relevant people so that the work can proceed," he said.
Asked about what makes him so qualified for the post of Attorney General, Nandlall said, "Well, I am an attorney at law. I have been in practice for a number of years and what is more important is that I am committed to nation building. I am committed to using my skills and training to the best of my ability to advance my peoples' interest and the national interests. I think that that is what the qualification really is," he said.
On what makes a person eligible for being conferred with Senior Counsel, Nandlall said that one would have had to have distinguished herself or himself in a particular area at the Bar.
Ali said it was an honour for him to be asked to serve in the new Cabinet. He said that government will push for the continued expansion of the East Bank Demerara and continue to work in the water sector, in terms of water treatment plants.
Ali became the Housing and Water Minister upon the departure of Harry Narine Nawbatt, who received a diplomatic posting overseas in 2009. Prior to this, Ali worked in the Ministry of Finance.
Finance Minister Singh said Guyana is at the most exciting time of its history. "We are poised for extremely rapid economic growth. There are a number of very large investments that are on the verge of materializing. We have done a lot of work to put the institutional and regulatory framework in place to sustain the growth," he said. "For all of those reasons and more, I am extremely optimistic about the next five years for Guyana," he said.
With respect to priorities, Singh noted that "…the focus certainly has to be on sustaining and consolidating the environment that we have created, ensuring that the investments that are on the verge of materializing do materialize and ensure that we have growth of the economy."
He added that with continued growth "comes all of the associated benefits which include bringing improvement to the lives of each and every Guyanese person. It has been a tremendous privilege to have been asked to serve on the Cabinet."
'New ministry'
Persaud, meanwhile, said that having a dedicated Minister of Natural Resources and the Environment allows government to deal comprehensively with all the threats and also puts Guyana in a position to have maximum utilization in terms of extracting the opportunities that exist within the natural resources sector.
Persaud said the creation of the ministry speaks to the new President's commitment to the area. "It is a totally new ministry so I will have to do the task of setting up a new ministry but I look forward to the challenge," he said. "I will find some temporary quarters somewhere to start working," he said, lightheartedly.
"There are so many things that we have to get done and there is a sense of urgency on my part and I think both national and internationally as we think of having this area addressed and addressed properly and certainly I would want the President's objective and agenda to be pursued in the interest of the people of Guyana," he said.
"I enjoyed my tenure in agriculture and I told the new President that I thought it would be good to have a change in portfolio so I welcome the change in portfolio. I am very excited that [the President] has given me this new area," he said.
Persaud said the area of natural resources is something to which he has some amount of exposure through the forestry sector and the Low Carbon Development Strategy. "I see that there are so many opportunities for work to be done and I told him that I am up for the challenge of starting even if I have to start a new ministry just to get it done. Our development and prosperity are hinged on how we utilize our natural resources," he added.
Persaud said the Office of Climate Change, the entity overseeing the implementation of the Low Carbon Development Strategy will be a part of the new ministry and since it does not yet have its own budget, this new ministry will have to be linked with the Office of the President. He said too that the Guyana Geology and Mines Commission, the Guyana Forestry Commission, the Environmental Protection Agency and the Guyana Lands and Surveys Commission will all fall under the new Ministry of Natural Resources and the Environment.
New Minister of Education Manickchand said that she plans to have consultations with all stakeholders. "I would really like to hear from students, teachers, parents on what they might want to see," said Manickchand.
"Wherever I am I don't stop being interested in women's issues and children's issues," the former human services and social security minister said.
Manickchand was instrumental in implementing the 'Stamp it Out' campaign, which addressed sexual violence and oversaw the passage of a number of laws related to gender issues and sexual violence.
Around the Web