The AFC has condemned the police's use of force in Tuesday's faceoff with APNU protesters in their quest to have the Guyana Elections Commission (GECOM) supply Statements of Poll (SOPs) from the elections, which up to last night had not been delivered.
"We wish to denounce in the strongest possible terms the use of force, or excessive force by the police against the protesters belonging to APNU. We believe that the right to protest is a sacred and sacrosanct right which should not be violated," AFC leader Raphael Trotman said at a party press conference at its headquarters in Campbellville yesterday.
He said whilst there might be some discrepancy as to whether or not permission was granted, it is widely accepted that the conduct of the protesters did not warrant the use of tear smoke and rubber pellets.
Trotman said that if the police had seen that they were under attack or under threat, then perhaps certain firing orders could have been considered and certain protocols put into place.
"We cannot in any shape or form condone what happened yesterday and we are quite disappointed in the police officers – those who were on the ground and those who were in their offices directing the operation. In most other countries the Commissioner of Police would have had to resign," he said.
"I am still surprised that he is on the job given all of what happened over the last few weeks," he said. "Yesterday's debacle should be the straw that broke the camel's back and we will be taking this matter up in a more frontal way," he added.
Chorus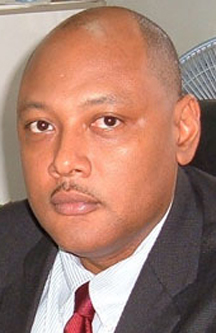 Trotman noted that the AFC has not yet met with APNU but said that the party joins the chorus of opposition condemnation against what he described as high-handed arrogance in the use of force.
"There were children around, there were innocent bystanders," he said. He noted that among the wounded were an attorney- at- law, James Bond; a former Chief of Staff of the Guyana Defence Force, Retired Brigadier Edward Collins; and two former Members of Parliament, "females, mind you – who were shot at by the police ranks."
He said, "We condemn it as cowardly and bullyism and we will not stand for it and we will add our voices in a very strong way."
Commenting on a police statement yesterday in which the incident was referred to as an "unfortunate" one, Trotman said that while this is the closest thing to an apology on behalf of the police that he has seen in a very long time, this was not enough, and that the police must also make visits to the injured people. "Someone should be removed all together or sent to Monkey Mountain. I believe that's the place that police officers who are errant are sent to," he said.
Trotman believes that the debacle could have been avoided had GECOM from an earlier stage acceded to a "simple and legitimate" request for certifying documents which were used to determine the results of the 2011 elections to be shared "not just with APNU but with all of the contesting parties."
He recalled that after the 2006 general elections, the parties received a CD Rom with all of the Statements of Poll scanned with the signatures of the certifying officers.
"And so we find it strange and very suspicious that GECOM would refuse to accede to a simple request to share the certifying documents," he said. He pointed out that GECOM is akin to a quasi-Judicial body.
"It has a judicial function and if it carries out that function it has a right to show the basis for how it acted. It has a statutory and constitutional duty to provide the supporting documentation to show how it arrived at its decision," he said. Up to yesterday afternoon, the party had not yet received the SOPs from GECOM. This could be said for APNU as well, whose leader David Granger said that he has not received the SOPs from GECOM.
Trotman added that the AFC will support APNU in the quest to have copies of the Statements of Poll shared with all of the contesting parties and with all of the observer missions. "Every citizen should have the right to access the SOP from his or her polling station. This is 2011, not 1911. This is not the Dark Ages," he said.
Trotman said that it is now widespread public opinion that GECOM as an institution has failed. He said that the body showed similar breakdowns in 1997, in 2001 and in 2006.
"It is safe to say that public confidence in GECOM as an institution is at an all time low and in the days and weeks ahead the AFC will be calling for a complete overhaul [of GECOM] and that could start with a removal of all of the commissioners [because] we are not impressed with any of them…," he said.
Speaking on GECOM, AFC Presidential Candidate Khemraj Ramjattan said that it will be very important that the body put the SOP information on its website so that whosoever wishes may scrutinise it. He said that too that the silence of the opposition-nominated commissioners of GECOM has been disgusting.
Addressing the issue of the verification of SOPs, AFC member David Patterson said that his party is in support of APNU's call for such verification. "To that end, we have shared with APNU whatever information they require from us because we were in possession of some SOPs which they were not in [in possession of]. We also shared with the Electoral Assistance Bureau (EAB) SOPs which they were short of," he said.
"We are very willing and able to meet with anyone to sit down as a party or as a group of parties to go through this verification as a collective group. We are eagerly awaiting GECOM's SOPs because our preliminary investigations reveal some differences, some numerical errors, so we really are very interested to see the SOPs which GECOM used to compute the results," he said. He also pointed out that the delays by GECOM gave the impression that mischief was afoot.
Speaking to this newspaper yesterday, Public Relations Officer at GECOM Vishnu Persaud said that letters had been prepared to send to parties but the accompanying DVDs with the SOPs burned onto them had not yet been completed.
Around the Web