Supporters of opposition coalition APNU yesterday protested at the Home Affairs Ministry over the actions of police as well as at the Guyana Elections Commis-sion (GECOM) over its conduct of the recent general elections.
A group of APNU protesters joined members of Red Thread in front of the Home Affairs Ministry on Brickdam to protest the actions of the police, who fired on members of an illegal march on Tuesday. The police had fired rubber bullets indiscriminately into a crowd of protesters as they walked along Hadfield Street on Tuesday morning, injuring several persons, including youth leader James Bond, retired Brigadier Edward Collins and several senior APNU supporters.
At around 2 pm the protestors grew in numbers as they called for the removal of Home Affairs Minister Clement Rohee as well as an investigation into Tuesday's incident. The group also called on the general public to condemn the actions of the police.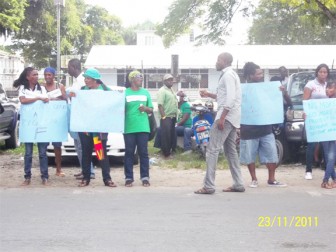 Bond joined the group as the afternoon wore on and he noted that the youth arm of APNU will continue to press for the electoral process to be more transparent.
He told the media at the scene that the police actions left much to be desired and along with other persons on the picket line, noted that the police lacked professionalism. He said too that there are many persons like him who would not sit idly and allow the authorities to carry out acts of injustice.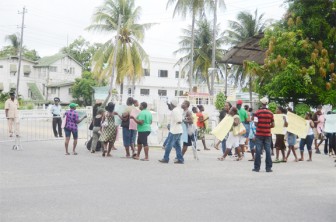 Protesters also converged in small numbers outside the barricaded area in the vicinity of GECOM's head office at High Street, Kingston and called for the removal of the Chairman Dr Steve Surujbally and Chief Election Officer Gocool Boodoo. They also called on GECOM to give account for the Joint Services votes, while saying that the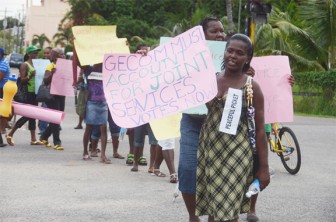 electoral process lacked transparency. The protesters gathered in the area shortly after lunch yesterday as the police kept a close eye.
Around the Web