By Mark McGowan and Johann Earle
President Donald Ramotar recently met with opposition groups A Partnership for National Unity (APNU) and the Alliance For Change (AFC) and pushed for Ralph Ramkarran to be returned as Speaker of the National Assembly, but neither of them is in support of the proposal.
AFC Chairman Khemraj Ramjattan, during a press briefing yesterday, indicated that Ramotar and other government officials had met with a delegation from the AFC on Tuesday evening. Prime Minister Sam Hinds, Dr Roger Luncheon and Gail Teixeira formed the delegation from the government, while the AFC team included Ramjattan, Gerhard Ramsaroop, David Patterson and Dominic Gaskin.
Ramjattan said that the matter of moving ahead with the Speaker of the National Assembly was raised at the meeting.  "The President gave us his thinking, which was largely that he would like Ralph Ramkarran to continue to be the Speaker. We disagreed with that and we indicated that we had two very powerful nominees. One in Raphael Trotman and the other in Moses Nagamootoo that we would like to propose. They said they would think about it but they said that Ramkarran was the best [person] for them," he said. "We also were told that Deborah Backer would be APNU's [choice] for Speaker. We indicated that we were fine with that but that we had to come to some consensual agreement on the best person for that position," he said.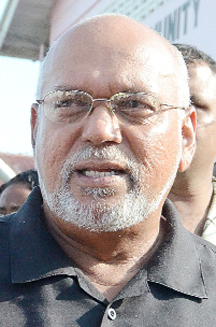 When the 10th Parliament of Guyana is convened later this month, the first challenge for the hung parliament would be the selection of the Speaker and Deputy Speaker of the National Assembly. With the opposition together securing 33 of the 65-seats in the National Assembly, and with no party having the majority, the selection of the speaker would be dependent on a compromise.
When contacted, APNU Chairman David Granger said that he and the coalition's elections agent Joe Harmon met with Ramotar, Luncheon and Teixeira on Monday. He declined to speak about the matter of the Speaker, however, sources in APNU indicated that the matter did come up during the engagement with the President and Ramkarran's name was put forward. APNU did not agree to this, a source told this newspaper.
SOPs

Granger, meanwhile, told Stabroek News that he raised concerns about the verification of the Statements of Poll (SOPs) from the general elections. He said that Ramotar indicated a willingness to proceed with a forensic audit of the entire election. Granger said he indicated to Ramotar that the APNU did not find such an activity necessary but was more concerned about the verification of the SoPs.
APNU also raised issues of governance, including the abuse of the State media.  Granger said that he advocated for a change in policy by the state media so that other political parties can have access.  Ramotar, Granger said, promised to examine this. "We just have to wait and see," Granger said.
According to Granger, he also spoke to Ramotar about instances of victimisation and discrimination against APNU supporters at their workplaces. These persons, Granger said, were either sent home or transferred. Granger said that Ramotar asked for further information on these cases.
Clash

Meanwhile, Ramjattan said that he spoke to Ramotar about the clash between the police and APNU protestors on Tuesday morning which resulted in the police spraying several of the coalition's supporters with rubber bullets.
"We indicated that to defuse the tensions in and around Georgetown, then there must be the handover of the SoPs," Ramjattan said. "We feel that scanned copies of these SoPs ought to be handed over to APNU. They have a genuine grievance," he said. He added that the PPP/C team was suggesting that there be a recount of all of the votes and this, he said, the AFC disagreed with. "It is better that the SoPs be handed over," he said.
"We made it quite clear to the president and his team that the right to protest is a constitutional right and a fundamental human right," he said. "Dr. Luncheon indicated that he will ask the security forces to use restraint and we were happy with that," he said.
Ramjattan also said that during the meeting with the President and his team, the AFC was asked for some of their ideas "and we indicated that we would be happy if Parliament [is] convened as early as possible, because from our indications they were trying to convene Parliament on the very last date, which is sometime in January. We feel that Parliament should be convened as quickly as possible."
"The second idea that we proposed is that we have an immediate tri-partite consensual arrangement to itemize the foremost matters of national interest, which find common ground in all our manifestos and action plans, with certain deadlines put to them, like the Procurement Commission must be established and operational within the first four months of the convening of Parliament. The suggestion was well received and we agreed that this will not be with the AFC talking alone with the PPP/C or the AFC talking alone with APNU. We would like to meet with the three parties all together… to deal with these matters," he said.
Ramjattan also spoke about the party's engagement with APNU, saying that the two parties are yet to meet.  "It is being said all over the place that we have met with APNU. We have not. We will be and we intend to meet with APNU to discuss matters pertaining to our engagement," he said. "Remember it is AFC/APNU that constitutes the majority of Parliament and it will be highly irresponsible if we do not meet to discuss matters of importance to both of us.
There will be matters of the speaker's appointment, there will be matters of how we are going to engage within timelines in relation to what we are going to deal with in Parliament. We have common ground on so many things like corruption, good governance, radio licences and a whole host of issues that we would like to [address] with APNU and we will be meeting soon," he said.
Around the Web