By Frances Abraham
Photos by Anjuli Persaud
The ultra-modern Shell service station at Bel Air Park was officially commissioned last evening and President Donald Ramotar said that he was optimistic that Guyana would soon become an oil producing country.
The new facility was said to have cost almost $500M and will create new jobs, which Chairman of the Private Sector Commission (PSC) Ramesh Dookhoo said will result in the payment of more taxes and further increase the company's ability to contribute to the economic growth of Guyana.
He added that Sol Guyana Incorporated's success in recent years is a clear indication of its ability to analyse its investments carefully, while noting that there is a growing use of private automobiles, industrial equipment and of the public transportation system at large that justify the focus on Guyana.
The General Manager of Sol Guyana Incorporated, Ken Figaro, said that the commissioning has now brought the company closer to fully operating its local retail network, which comprises 12 sites, 10 of which are owned by the company and operated by retail contractors while the others, also Shell brands, are owned and operated by the respective dealers.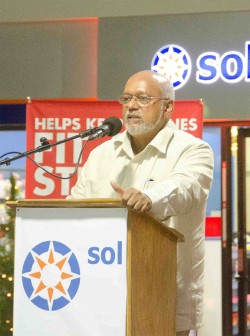 He noted that the Bel Air Park service station, like 8 of 10 company-owned sites, will be operated by a husband and wife duo, Robin and Michelle Low, who have been in this position for 6 years.
Philip Payne, the Group Retail Manager of Sol Caribbean Limited, explained that there have been a number of upgrades and rebranding programmes, with the Esso network now integrated into the one network that is seen today. He noted that the new facility is comprised of a Shell branded fuel court and a Sol branded Convenience shop.
He highlighted the Friction Modification Technology (FTP) gasoline, which is one of the products offered at the service station. "We want to delight our Guyanese customers with our products, with our locations, with our retailers and all the qualities we can offer," Payne stated.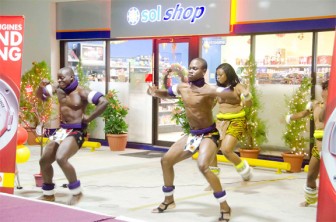 Ramotar, who delivered the feature address, spoke of the petroleum industry, which he said is very important to Guyana.
"Petroleum fuel is the main energy that we have in our country and it is the single largest expense that we have," he said, adding that some US$394M was spent last year on the product and this year, an increased figure of US$450M will be spent, indicating a growing economy with an increased vehicle population.
Ramotar said that soon mining will play a very important role in Guyana's development. He noted that the mining sector is consuming a great deal of petroleum and petroleum products at this point and this, he said, will increase.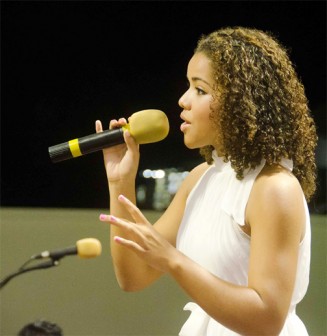 "The facilities being developed by Sol, this being the flagship, are very important in the distribution and supply to all our sectors of mining and agriculture and for these reasons, we are hopeful that soon, Guyana will be able to join the group of countries producing oil and gas," Ramotar said.
He indicated that presently, a Repsol team is in Guyana and the company will begin drilling very soon. He added that they will be here for a minimum of 180 days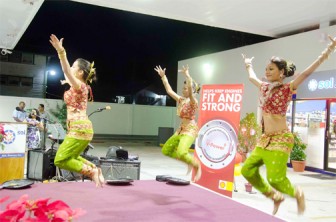 and by then, he is hopeful that others will join and Guyana will soon be striking oil.
Also launched last evening was the 'Ferrari Model Car Promotion,' which will be rolled out next Monday at all Shell-branded service stations. Motorists will receive a coupon for every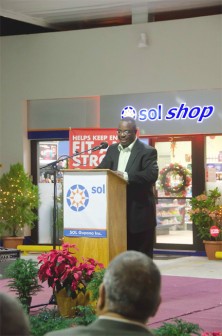 $3,000 purchase of Shell V-Power and, on the presentation of 6 coupons, customers will receive a model car from a set of 6.
Around the Web