Ansa McAl, local distributor of Stag beer, yesterday stated that its 'Stag: Crown Your Community' promotion in no way targets children and dismissed claims that beer drinking results in other social ills.
Ansa McAl's Chief Executive Officer Beverley Harper said she was shocked at a recent letter to the editor, signed by several members of the humanitarian organization, Help and Shelter condemning the recent Stag beer advertisement which promises to donate $3 million to whichever community submitted the most crowns from bottles of the said beer brand.
"The new advertisement for Stag beer, which promises $3,000,000 to the community which can provide the most Stag beer caps, is irresponsible, dangerous and destructive," the letter by Help and Shelter said. It added, "This ad is encouraging communities and the youth in them to engage in a negative and potentially destructive activity, namely increased alcohol consumption, which contributes to domestic violence, child abuse and neglect, the spread of HIV and drunk driving resulting in road accidents and deaths."
Harper said she was shocked when she saw the letter since the promotion was not the first of its kind to be launched in Guyana. She said too that when the promotions were launched Ansa Mc Al felt that it was doing a good deed; giving back to the communities of its customers by rehabilitating a field so children may have a proper facility to play sports, exercise and socialize with each other "I think it's a miscarriage to say that everybody who drinks is an alcoholic. I was so shocked because I thought we were doing something good for the children of Guyana," Harper told Stabroek News.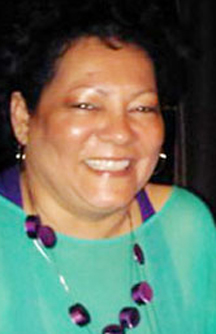 She added that in no way does she "and by extension this company encourage or promote underage drinking. So I was appalled that such a claim would be made."  She said the advertisements clearly state that only persons over the age of 18 may submit crowns or be a part of the promotion. "Since the letter we have made adjustments to clearly emphasize not only our 'Drink Responsibly' motto but also to reinforce the fiat that no person under the age of 18 will be able to participate or even be a part of this competition," she said.
"We do not want children to go hunting for beer caps in their communities …so we say to everyone you must be over 18."
Part of the Help and Shelter letter read: "It is guaranteed that any playing field won with Stag beer bottle caps will be built on the bruises, lacerations and beatings of women victims of domestic violence and on the cries of hungry, beaten, neglected and abused children who do not attend school because their parent(s) have spent the household money on feeding their alcoholism instead of their children." Harper said she felt saddened since while she understands that alcohol consumption contributes to negative behaviours, she disagrees that Stag beer will be the cause of the social ills mentioned in the letter. She said that for the signatories of the letter to generalize a nexus between Stag beer consumption and abuse was unfair and without research-based merit. She gave the example of Saudi Arabia banning alcohol consumption yet having one of the world's highest rates of domestic and female gender abuse.
The CEO ended by reiterating that her company does not produce, but only distributes the beers and as such could not demand logos or slogans of the owners. However, being head of the company in Guyana and being Guyanese, she said she tries to ensure that the well-being of locals is the company's first priority.
Around the Web