A lit molotov cocktail was thrown at the Campbellville home of politician Philomena Sahoye-Shury early yesterday morning, in the second attack on the longtime PPP activist for the year.
A fearless Sahoye-Shury, who is called 'Fireball' because of her temperament, yesterday condemned the attack and after describing the perpetrators as cowards, challenged them to confront her face to face. Police are already investigating two similar incidents.
Yesterday's incident also comes on the heels of a similar attack on the home of PPP/C government official Odinga Lumumba on Monday, and the party yesterday said it was perturbed by the recent attacks on the homes of leading party and government officials.
"Today's incident is the third such attack on Ms. Shury for this year with the first being in January. The PPP/C vehemently condemns these violent acts of terrorism perpetrated on its members," the party said.
Police, in a press release, said that about 1am, a molotov cocktail (channa bomb) was thrown at Sahoye-Shury's Sheriff and Canje streets, Georgetown home. The device, according to the police, failed to ignite and no damage was done to the building.
Speaking to Stabroek News at her home, the national director of community development made it clear that she is not afraid. Sahoye-Shury, a mother of three recalled that she was asleep when her nephew informed her that a channa bomb had been hurled at the building. She said it was evident that the device had been lit but opined that the breeze put it out as it sailed into her yard, landing on the ground inches away from her vehicle.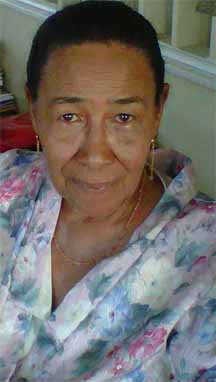 She said had the device remained lit and gone a little further, her vehicle would have caught afire and she would have had a catastrophe on her hands.
"As you can see I have cameras. I have put myself in expense," she said explaining that the camera that was closest to where the device was thrown "can only see so far". The security guard on duty apparently did not see who threw the device.
She said it was the third attack she had suffered at the hands of unknown persons. The first, she said, was in January when a channa bomb was hurled at her home and then in March when her North Road office was broke into and its interior doused with kerosene. "The sofa was no good. You couldn't breathe when you went into that office. Then now," she stressed.
Sahoye-Shury said the police arrived promptly yesterday and conducted investigations. "I am satisfied with the prompt attention of the police so far but the thing is twice there were no results." She said that in all her years in the political arena. "I have never ever experienced something like this.
What I am saying also is they are cowards… If you are not a coward confront me. Let's battle and see who will be the winner." She went as far as to describe the attacks on her as terrorism.
She expressed the view that the attacks are politically motivated. "This is political. I am convinced now. Previously I was saying maybe it is a prank," she said, while adding that the perpetrators had her property under surveillance and as  a result knew where her cameras were and what would be the best angle to launch the attack without being captured. She said she believes the perpetrator stood on a nearby bridge and threw the device into her yard.
Safety
Asked whether this latest incident has left her in an unsafe environment, Sahoye-Shury said, "I am safe… If they want to chase me out of this country, that is another thought. I was born here and I will die here."
She said she is Guyanese and treats everyone like a human being. "I know about human rights. I fight for the women in this country. I fight for sugar workers in this country and I am not going to let a set of criminals destroy my heart…and chase me out of this country because there is a lot of work to be done to help our poor people."
The member of the PPP women's arm said she is a target because she is "a good woman" who does not take her work lightly. "I am continuous, consistent and honest in my job," she said.
"I don't know but whoever they are, if they are not cowards they will confront me because I would not go their house and destroy it," when asked if some aspect of her work could have been the motive behind the attack.
Clueless
Meanwhile, Anil, the manager of Buy Me Auto Sales on Garnett Street, Kitty said that he was clueless why someone would want to throw a "channa bomb" at the property.
Police said in a press release yesterday that on Thursday, around 8:45am, the remnants of a broken and unlit molotov cocktail were found between two motor vehicles on the premises.
Anil explained that an employee who had arrived to open the business called and informed him that he discovered a channa bomb. He said the police were immediately contacted thereafter. Persaud pointed to a spot at the front of the property where the device was found.
"We don't have any problems. There is no issue with anybody," he said, before concluding that someone was just being malicious. He said the device had been lit but the flame might have been point out when the device landed in a pool of water that had formed after a shower hours earlier.
According to Persaud, there is a security guard at the location but the man might have been asleep when the device was hurled.
Around the Web