While the average citizen cleans his/her home in preparation for the festive season disposing of tons of unwanted items, residents of the new Diamond Housing Scheme have resorted to burning or burying theirs so that the piles of rubbish not are constant reminders that their garbage has not been collected in over one month.
When Stabroek News visited the housing scheme yesterday many of the residents complained. They said it was the responsibility of the local Neighbourhood Democratic Council (NDC) to have the garbage emptied on a regular basis and expressed disgust that their waste had not been collected and it seemed that it would not be picked up anytime soon.
One resident said she noticed Puran Brothers disposal service's garbage trucks collecting the garbage.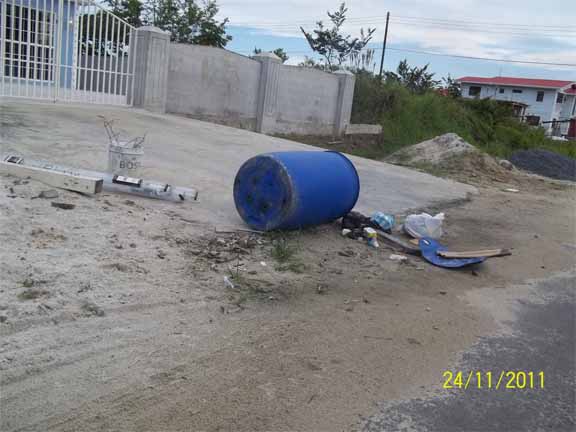 However she said she was unsure if they were there because of a private contract.
"We do pay our taxes and it's the NDC responsibility to have our garbage barrels emptied," was the comment of another irate resident who indicated to Stabroek News the overflowing bins and littered parapets throughout Fifth Street, Diamond.
The residents also complained about the stench of the garbage left there for over three weeks and said it had become a haven for flies and other pests adding that even cows which normally graze in the area could be seen overturning bins.
Some of the residents have resorted to burning the waste that cannot fit into their overflowing barrels.
They stated however that the smoke from the garbage fires affects other residents and many with children especially babies have complained.
Another disgusted resident said, "It has been over three weeks and the garbage has not being emptied. This is sheer ignorance and then at the end of the month they come and give you an envelope and smile."
Another female resident of the neighbourhood lamented that she was frustrated and tired of the garbage disposal situation and has thus turned to burning her refuse since she is of the view that the problem will not be addressed anytime soon. "I am tired and frustrated they are always passing the buck.
When I asked the garbage collectors the men stated that I should check with the NDC since it was their responsibility.
When I called the NDC they said I should seek recourse with the government and I'm sure if I am to ask a government official they might blame the mayor. This is just unacceptable," she said.
She added, "I am waiting on them to come with their envelopes nearing Christmas and they will know what I will tell them because it isn't business as usual with them anymore. They will see who will have a merry Christmas."
Around the Web