The political will to fight corruption, a demanding public wanting action and prosecutions of guilty public officials are key for a country to improve its ranking on the Corruption Perception Index (CPI), a visiting official of international watchdog Transparency International says.
Zoe Reiter, Senior Programme Coordinator of Transparency International, spoke at a seminar yesterday in recognition of the United Nations' International Anti-Corruption Day, observed yesterday.
The seminar, which took place at the Demerara Life building on Robb Street, was hosted by Transparency International Guyana Inc. (TIGI). Speakers also included Minister of Finance Dr. Ashni Singh, who emphasised that the government is committed to fighting corruption and lamented that it has not received enough credit for its efforts.
Delivering her presentation, Reiter said that corruption is a non-partisan problem that requires a non-partisan solution. She said too that corruption feeds poverty and stymies development. It also seeds violence through drugs, trafficking in persons and arms.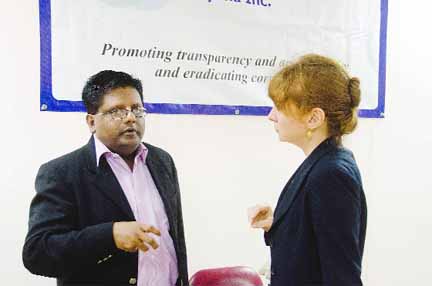 She noted that corruption is bad for business, not just in the moral sense but also because it is more expensive for corrupt companies to borrow.
Speaking on the methods that the body uses, Reiter said that Transparency Inter-national combines its international knowledge with local expertise to arrive at their conclusions and said it does this in a non-partisan way. She made the point that TI does not carry out its own investigation to establish whether or not corruption exists. "We raise awareness but we never carry out investigations ourselves," she said.
Reiter said that to measure corruption, Transparency International uses a number of tools that it has developed over time. These are the CPI, the Bribe Payers' Index and the Global Corruption Barometer. She said that in addition to this, the body conducts analyses and monitors enforcement of laws passed to arrive at its findings.
On the 2011 findings, Reiter said that more than half of the countries surveyed scored less than five out ten. Forty-three countries scored between five and seven. She said that the outlook was very bleak.
Reiter noted that reforms will take time and will require a very committed Govern-ment and very demanding citizens. "Acting against corruption is more than just words and promises. [It is the] political will. Having the laws is only a first step," she said.
Reiter said that if a country's ranking is to be changed for the better, then public officials must be prosecuted for corruption, there needs to be an independent and well-resourced Judiciary and there must be enhanced media and public scrutiny.
Ratified
At the end of Reiter's presentation Gail Teixeira, a former Government minister and advisor to the President on Governance, said that countries which had not signed neither ratified various treaties on transparency and corruption were ranked in a higher place than Guyana and asked Reiter how this could be possible. In response, Reiter said that laws are one thing, but implementation of those laws is another. She said that the CPI is meant to raise awareness of the problem and not to extricate it.
Minister Singh acknowledged that while Guyana still has to address issues of corruption, there have been many areas of progress and he is peeved that not enough of this is acknowledged.
He also criticized Trans-parency International's methodology and said that it can lead to incorrect conclusions being made about a country. He cautioned too against the use of what the body might deem as independent commentators which might just well turn out to be anti-Government advocacy.
In the latest assessment by Transparency International, Guyana achieved   a ranking of 134 out of 183 countries assessed on perceived levels of public sector corruption.
Unshakable
Speaking to the gathering, the minister said that President Donald Ramotar has committed to working with Transparency Inter-national and by extension Transparency International Guyana Inc to address issues surrounding issues of corruption. He said that the government's commitment to fighting corruption is unshakable.
"In fact, President Ramotar is on public record as saying that fighting corruption and the perception of corruption will be a priority of his administration," he said. He said that the priorities of the new Government will include building on the progress that has already been made "especially to further strengthen systems to enhance openness and transparency in government."
He said part of the effort too will be dedicated to bridging the gap that exists between the reality and the perception as it relates to some dimensions of corruption.
He said that government's commitment in this regard is to be viewed against the backdrop of "a steady, demonstrated track record to establish systems aimed at safeguarding accountability."
But he said that persons should be careful about arriving at conclusions based on the Transparency International CPI. "One has to be particularly wary in processing indices such as the Transparency International Perception of Corruption Index, because the Index is very clear as to what it is," he said, adding that it is flawed and has shortcomings in its process of arriving at conclusions. He said that given the construct of the index, time-series comparisons are not truly representative of the reality in the country with regards to corruption.
The Minister made the point that in compiling a snapshot of the country's corruption state, it is important that the changes that the government has made to enhance transparency be taken into account. He cited the passage of legislation governing procurement, the Auditor General's Office and changes to the Constitution giving the Opposition Leader veto powers over appointment of key posts as some of the changes that the government has made.  But he said the CPI is not a body of work that the government would choose to ignore.
"In compiling these indices one must bear in mind that there is a difference between independent commentary and anti-government advocacy," he said. Here, he urged Transparency International to maintain its impartiality when compiling data on countries.
Hit with a barrage of questions and comments regarding the failure of the government to implement many of the reforms passed during the Constitutional Reform process and in Parliament, Minister Singh said that he believes all political parties will aim for the establishment of the Public Procurement Commission among other commitments.
Alliance For Change (AFC) member Khemraj Ramjattan, speaking from the audience, said it is time to wipe clean the slate and said there is need for more than placatory words. "We need strong commitment," he said, noting that there must be deadlines to these commitments.
Around the Web