With the outcome of the recent general elections, former WPA executive member Eusi Kwayana believes Guyana has its best opportunity to end years of bitter rivalry between the major races and he says now is the ideal time for the political parties to work towards a national unity government.
Guyanese of Indian and African descent have been in rivalry since colonial times and this has been perpetuated into the modern day because both the PNC and the PPP/C regimes excluded other races, Kwayana, a stalwart in local politics, argues. As a result of this history, he believes that "any serious offspring of a slave or an indentured servant" would not want to spend the rest of his/her life fighting each other.
The political leaders, Kwayana told Stabroek News in a recent interview, need to realize this and address it effectively. "I'm hoping that the people who are engaged and appointed by the people by their votes on one side or the other side or any side will try to come to a clearer understanding of what has presented itself to them; the opportunities that now present themselves to the healing of the nation and the healing of the nation in such a way that no part of it suffers," he said.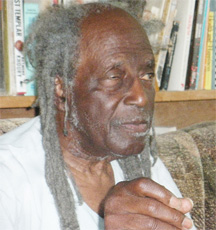 "Not the kind of healing that you can get by cutting of a part and casting it aside; but the healing of the nation in such a way that no part of it suffers," he added, while emphasizing that no part of the country should be without representation in such an arrangement. He singled out the Amerindians as having an important part to play in this arrangement and also warned against the planting "of seeds of anger" in the process.
Following the November 28 polls, the PPP/C, which had a majority government since 1992, retained the presidency but lost control of the 65-seat Parliament to the opposition APNU and AFC. With no party securing an outright parliamentary majority, political consensus will be critical to the effective functioning of the government.
Kwayana, who migrated to the US in 2002 and was recently in Guyana to attend the funeral of his brother, said the electorate had clearly spoken and added that the voices of all citizens need to be heard. "I hope nobody will try to demean and put down others simply because of numbers. That has happened in the past and it has led to disaster," he said. "Fighting for the prize of Guyana has been a bloody and costly business. I hope that I can have the assurance and hope in myself that my fellow Guyanese will come to the position that enough damage has been done, enough destruction has been done. We're just coming out of a period of maximum destruction of people [and property],"he added.
He said that he had called for former president Bharrat Jagdeo to be given a chance when he assumed the office of president but he was disappointed with the result. "I was the one who said give the young man a chance. When people thought it was most absurd that somebody of Jagdeo's age could be president, I said give the young man a chance because I didn't know he was bringing burdens; bringing baggage," he said.
"The people are jobless, the place is upside down with corruption and nobody is doing anything about it," Kwayana declared. "People want a stop to that, all sorts of people want a stop to that; it is a most disquieting experience," he added. "Righteousness exalts a nation," he said, referring to the Biblical verse, which he said is reflected in several other religious texts.
Kwayana suggested that the more minds put together towards solving Guyana's problems the better it would be for the country. "No one party could have all the brains to solve this country's problems. Any claim of one party that it has the brains is either an innocent pretence or a deliberate crime because we must know that no one set of people, the modern world is not like that, where knowledge is pocketed in one kind of aristocracy," he stated.  If any administration were to feel this way, he said it would be deeming itself nothing but an aristocracy, which he opined would be the worst possible choice at this time.
"If anyone is really thinking of healing and a government of national unity instead of another five years of cutthroat operations, with all the excesses that we know to be repeated and repeated and covered up. If anybody is at all patriotic and wants to do something about making peace attractive and possible in Guyana, they could not want a better situation than this one," he contended.
"To continue this obscenity of a one-party government in these circumstances is very disgusting to me," Kwayana said emphatically, while adding that "people in power and people in certain positions have to ask themselves, 'is this country for me alone or is it for everyone?'"  The country, he argued, belongs to all, not only to those that voted for the political party that won the most votes at an election.
Were he in the position of President Donald Ramotar, Kwayana said, he would move to engage other stakeholders to establish a government of national unity. "The only wise thing any clown could do in this situation was to address the issue of a government of national unity from which will flow the energies for unity among the people. But the President is not a clown, he is far from [one]," he said.
Kwayana added that establishing a government of national unity will take time and would require the constitution to be revised. He said that while this is being done, there would need to be an interim arrangement that the parties should agree to. He was hopeful that the all-PPP/C Cabinet named by Ramotar is just a "holding Cabinet" until a government of national unity is established. The whole posture and direction of governance, he said, will have to be less partisan.
He said that contrary to a popular myth, having a government of national unity does not mean that there would be no opposition in Parliament. Every Member of Parliament (MP), he said, should be free to criticize the government, thereby cultivating a new form of democracy. "MPs must not be muzzled," he noted, while stressing that the government belongs to the citizens of the country and that the citizens must have a say.
Around the Web