Being the wife of the seventh executive President of the Cooperative Republic of Guyana is something which has not yet quite sunk in for Deolatchmee Ramotar, and if she has her way she would be called Mrs Ramotar instead of First Lady Ramotar.
But the fact that her husband is now the most powerful man in the country is not lost on her, and she is confident that he is the man for the job of bringing the peoples of a sometimes divided nation together. In fact, if Guyana is not unified under the new President's tenure then it would never happen, his wife predicted.
It was with hugs, nervous laughter and a somewhat uneasy look that she greeted the Sunday Stabroek team at her Goodverwagting, East Coast Demerara home recently. She knew she was the subject to be interviewed, but smartly took charge and instead fired off questions at the journalist and photographer, asking about their work and family life. To them she was being the perfect First Lady but she quickly made it clear that she is not yet comfortable in the role. The spotlight is not what Mrs Ramotar likes, but at the same time she knows that given her new circumstances she cannot shy away from the limelight. However, she said she would take it one day at a time.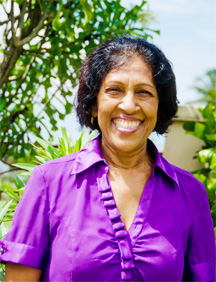 She is comfortable enough to open a window into her life and as a retiree she would prefer to spend her days in her flower garden. While the new First Lady hates cooking – although she still wants to prepare President Ramotar's dinner – gardening is her passion. And she ensures she 'burns her fingers' to prepare meals, as her two grown sons still visit for meals and as she puts it, "that is the only time I get to see them."
"I can spend the entire day in my garden," she told the Sunday Stabroek and there is plenty evidence of her love for gardening when one walks into her yard which is full of flowering plants. She plants her own kitchen garden and does the house cleaning, as she loves a clean environment.  And when she is not in her garden you may find her reading a romantic novel. She is also currently taking Portuguese classes and knows a bit of Spanish from her years in Czechoslovakia.
And the First Lady is not a woman who visits the salon; in fact she sees the long hours spent there as time wasted, and since she did a course in cosmetology she trims her hair herself and even puts in highlights.
Her life has now changed, and Mrs Ramotar said it will take some time adjusting to this, but first and foremost she has to become accustomed to the security detail in front of her home. She wonders if she can go out and shop for herself, or go to a gift store and pick up a few items. And she is not comfortable travelling with her husband in the presidential motorcade because of the sirens and all the attention: "I feel a bit ashamed and would rather just go into my car and drive."
Climbing trees
Born in the village of Huist 't Dieren (a Dutch name that means 'the animal house') on the Essequibo Coast, Mrs Ramotar was the sixth of ten children, and she refers to her childhood as "a happy time in my life." She was always anxious to get home from school to climb the trees to get the best fruit before her siblings.
"It was a joy living in the country, and I often tell my children that they need a taste of that," she said with a small laugh.
Following her secondary education at the Huist 't Dieren all-age school Mrs Ramotar taught for a short while as a temporary teacher before moving to Georgetown where she attended the Georgetown Technical Institute (GTI). Here she took a secretarial course as she waited for acceptance into the nursing school. It was in 1970 she joined the staff at the Georgetown Public Hospital where she worked for thirteen years as a nurse.
But it was during that one year at GTI that she met Donald Ramotar. It was 1969 and while Mrs Ramotar did not know that he would become her future husband, she knew she had a crush on him.
She still blushes when she speaks about their first meeting and swears she remembers the first time she set eyes on him. She was under one of the two big trees in front of the GTI building and he was under the other when they saw each other. Messages were exchanged through friends and when asked who sent the first message Mrs Ramotar said "Of course he!," before she burst out laughing.
Nothing but a few conversations came out of that first meeting as Mrs Ramotar said she had come to Georgetown for one purpose and she did not want to be sidetracked by a romantic involvement. They lost contact after they left GTI and at that time she was unaware that he had left the country for Russia to study.
It was in 1973 while on the boat crossing from Vreed-en-Hoop to Georgetown the two met again."I saw him, he was standing by the window and I went and I spoke to him and he remembered me," Mrs Ramotar said.
Following this conversation the relationship began and the following year the two got married. But the courtship days were days Mrs Ramotar would not forget as Donald Ramotar, according to his wife, was quite a romantic guy. During their courtship his girlfriend was stationed in Bartica as a nurse, and he called her often to sing love songs to her: "I can tell you he would call on the phone and he would sing love songs… and I would let my friends listen." She said that he was "quite a good karaoke singer."
The actual proposal was more like a discussion they had and decided marriage was right thing to do. They got married by Hindu rights before registering the wedding. However, she told Sunday Stabroek it was quite a difficult task to get him to be part of the religious wedding.
"And I still didn't get him to do everything, because he did not wear the traditional outfit; he wore a pants and he would tell you he wore one of his brother's pants because he didn't have a white pants. And this brother is shorter than he is so you can tell how he looked, just use your imagination," Mrs Ramotar said laughing.
And if she had known from the inception that she was one year older than her husband, maybe they would have never married. She found out when they were discussing marriage and while she "was not happy at all" there was not much she could have done. "But he looked so mature I thought he was older than me," she said.
Following the birth of their first two children the Ramotars moved to Czechoslovakia where Donald Ramotar was sent to represent the PPP working on a magazine. The family lived there for five years and the last child was born in that country.
While she stayed home for a while after they returned to Guyana to get the children settled, Mrs Ramotar said quickly moved back into the working population as she felt that a woman should work as part of her empowerment. She never returned to nursing since the state of the Georgetown Hospital had deteriorated, and a brief stint at a private hospital did not work out because of the way staff members were treated. With an accounting certificate under her belt – he had studied accountancy while working as a nurse – Mrs Ramotar said she applied for an accounting job at the Sugar Industry Labour Welfare Fund where she worked until she retired a few years ago as the Administrative Manager.
Politics
Mrs Ramotar said she never had any issue with her husband's work as a politician, and as she described it, it worked out well for them as he had his own professional life and she hers:
"So when we got home then we had our family life, and so I can do what I want, I don't have to ask permission to do anything."
In fact she admitted that she was happy his life was consumed by politics, as it was a "way of keeping him out of trouble." As she made that humorous comment the First Lady gave a knowing wink before laughing.
And at home her husband was the ideal family man, and they did everything together except for the cooking, as initially neither of them could cook. While she was forced to learn, it was a skill her husband never acquired. During her years as a nurse he never missed picking her up from work whenever she was on the evening shift.
"He never once forgot me there," she said proudly, adding that even if he had to wait for her he did so patiently.
While the new President gave of his best to politics he also gave of his best to his family, his wife explained. But he kept his political life separate from his family life and Mrs Ramotar recalled that the very first night of their marriage he went out and came home quite late which was scary for her. He never told her at that time he had gone to secure newsprint for the Mirror newspaper as that was one of the items banned under the then PNC government. "Maybe he thought I couldn't keep a secret," she said reflectively, but then she amended this to he may not have wanted to burden her.
'Best candidate'
As would be expected Mrs Ramotar said her husband was the best presidential candidate vying for the country's highest office, even though she knew he and the party had to work to get the votes.
"I never really said that okay, he is going to win and I am going to be the First Lady."
She is not clear on what her role as the First Lady will be, but says she will implement an initiative that focuses on the family which she said is important to the fabric of Guyanese society. Whatever she does, Mrs Ramotar is confident it will enhance the work of her husband.
She believes that the time is now ripe for Guyanese to truly come together, pointing out that the voters have spoken and the leaders should now listen. According to the First Lady it is her husband's dream to bring all Guyanese together and make the country's motto of 'One nation, one people, one destiny' become a reality.
"The motto is there but we are not there, and I think – this is my honest opinion and I have known him for thirty-seven years – if we can't have unity under him we would never have it…because that is his motto, to get Guyanese together, we must work together."
Admitting that she is not a politician, Mrs Ramotar said she believes that all Guyanese must be treated equally for there to be unity. She compared the country to a family and pointed out if each child is not treated equally in a home then there would be problems.
"You have to be really honest and treat everybody equally… The Guyanese nation is like his children now, and if he doesn't do that then you wouldn't have unity. And this is what he wants and this is what he will work towards."
And even if there are some "rebellious children" Mrs Ramotar said her husband can't "cast them aside but rather continue to work with them."
"My honest opinion, if Donald cannot get us to unite then we would never unite, this is how I feel."
She said her husband is a really fair person who is not of one ethnicity since his mother was a mixture of African and Amerindian, and his father was Indian.
"He wouldn't get it [unity] on a platter, but he has to work for it."
Around the Web