Although the matter has not yet been settled by the opposition parliamentary parties, APNU leader David Granger is likely to be the opposition leader when the 10th Parliament of Guyana convenes shortly.
With the opposition being in control of the House, the leader of the opposition will also be the majority leader. APNU and AFC, with 26 and 7 seats, respectively, control 33 seats to PPP/C's 32 seats in the House, following the elections.
Recently, APNU's Deputy Leader and Vice-Chairman Dr Rupert Roopnaraine told Stabroek News that the question of who would be the opposition leader had to be discussed with the AFC before any such decision could be made. He indicated though that it was reasonable to assume that APNU's leader would become the opposition leader.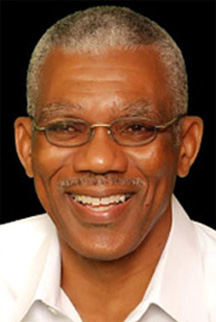 APNU and the AFC met on Thursday where they discussed a framework of cooperation in the House. And when contacted on Friday, Roopnaraine told Stabroek News that the two parties did not come to a definitive answer on who will be the speaker and the leader of the opposition but hinted that this would be settled soon.
The two parties are expected to meet again on Tuesday, Roopnaraine said. "I think that it is almost certain that Mr Granger would be the majority leader," he said, indicating that the APNU's presidential candidate was the leader of the party's list.
Asked whether the AFC would support Granger as the opposition leader, AFC Leader Raphael Trotman told Stabroek News that  his party recognizes that Granger, owing to the results of the national elections, "has earned the right" to become the opposition/majority leader should this be what he wants.
The more contentious issue though appears to be who will become the speaker of the National Assembly whenever it is convened. The PPP/C would like former speaker Ralph Ramkarran to continue in their post but both APNU and the AFC disagree with this suggestion. APNU would like Deborah Backer to become speaker, while the AFC is in favour of either Moses Nagamootoo or Trotman. AFC Chairman Khemraj Ramjattan had indicated that the AFC did not have an objection to Backer being speaker.
Roopnaraine indicated that the matter of the speaker will be further addressed at Tuesday's engagement.  It is likely, though, that APNU and AFC are expected to support an opposition candidate to lead the House.
Recently, presidential advisor Gail Teixeira told Stabroek News that the question of who will be the speaker of the House would be settled by consensus.
Around the Web