The party in a release said it is flabbergasted by what it called the "ongoing efforts by certain forces to interfere with the integrity of the 2011 elections material and vital evidence should there be either a recount or even a forensic audit which the party is advocating".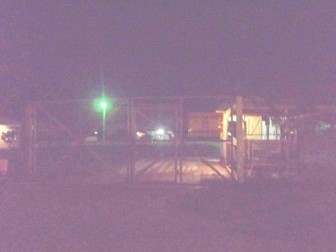 Referring to the discovery as "most disturbing" the release continued that the PPP/C has always maintained that it remains unopposed to a total or partial recount of the ballots given our firm view that there was orchestrated misconduct at several polling stations and divisions".
Attempts by Stabroek News to obtain information from GECOM's PRO Vishnu Persaud proved futile.  When contacted for additional information on the findings, PPP/C's campaign spokesman Romel Roopnarine said he could not elaborate on the situation. There was also no word from the Guyana Police Force on the incident.
Stabroek News visited the area last evening but persons at the site could not provide specific information on the issue. The security guard on night duty at the site related that when he arrived to work at around 7 pm he observed a lot of police activity and overheard that there was a break-in. However, he said he could not provide any additional information since he was unaware of what transpired.
When contacted last evening APNU presidential candidate David Granger said he was not aware of the situation. He however said that it would be alarming if there was indeed a breach of the integrity of the ballot boxes.
AFC presidential candidate Khemraj Ramjattan referred to the PPP's statement as a "red herring". While he was unaware of the situation, he said it could not impact the results of the elections as this was based on the statements of poll gathered from over 2,000 polling stations. He added however that "if there will be a need for a massive recount, then the ballot boxes should be in a secure place under armed guards".
The PPP release went on to say that the party was prevailed upon to withdraw its request for a partial recount of votes as the opposition claimed that this would delay the announcement of the preliminary results. "This request was made by the PPP/C in light of certain facts and activities that took place and affected votes which were cast for the PPP/C," it said.
"We view this break-in of the ballot boxes as a planned effort by certain political forces to prevent a recount given the suspicions and evidence of collusion to cheat the PPP/C of a clear parliamentary majority. We have also noticed an unprecedented feature i.e. the use of military-type planning and operations by these elements who seem bent on frustrating and even undermining the democratic process in Guyana," the ruling party stated.
The release added that the PPP/C expects that the GECOM leadership and the law enforcement authorities will move resolutely in apprehending the perpetrators. It said that the leadership of the PPP will deliberate on this and other unnerving evidence that pointed to a clear conspiracy to cheat the PPP/C out of government. "We intend to consider all options on going forward," it added. (Abigail Semple and Frances Abraham)
Around the Web