Sharon Anderson, Treasurer told Stabroek News that the NATC has "a lot of work to do in terms of cleaning the town and desilting the canal from Tacama Turn to Republic Road."
She lamented too that apart from the $10M subvention not being enough to carry out works, the council also faces a problem with delinquent taxpayers.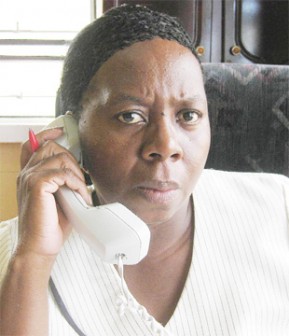 Anderson who was acting as Town Clerk when this newspaper spoke to her, pointed out that despite the limited funds, the council is trying to restore the town to its former glory and had purchased a mini-excavator and a loader.
A low-bed, she said, is needed to move the loader around and the council is in the process of sourcing one. It is being fabricated at Henry's Workshop in NA at a cost of almost $500,000.
This has resulted in the NATC saving over $300,000, she said, since to purchase the low-bed would have cost close to $900,000.
Anderson said too that emergency work had to be done on the access road to the dump site after the compactor truck that was donated by the government, became stuck.
The compactor truck is working every day now, she said from the new Glasgow Housing Scheme, which government had given to the council in February this year.
She said the council also "did some patching" of some sections of the road at Alexander Street, King Street and Lot 44 Stanleytown as well as on the northern entrance of Tucber.
The council would also be embarking on the patching of several areas including a section of Penitentiary Walk, Chapel Street and at Charles Place.
Anderson, who presented the council's budget in Georgetown last month, promised that the work would continue. She noted though that, "It is a long haul to bring the town back to what it used to be but we would try hard to make it happen."
She also pointed out that "VAT is licking the council terribly" and asked that government exempt the council from the charges.
According to her, several years ago the drains "used to be so clear that people used to play cricket" in them and "I want to see that [clean drain] happening again."
She was also planning to go out and meet with the businesspersons to discuss the collecting of  garbage in the commercial sector. She is appealing to them to co-operate with the council so that the town can be kept clean. She noted that some businesspersons would apparently "pay the junkies to clear their garbage and they [junkies] would dump it in the drains."
Such problems, she said had resulted in the council using a lot more fuel and the 2,300 litres that used to last for six months is finishing much faster.
Around the Web