Gunmen stormed three households at Liliendaal, on the East Coast Demerara, in a brazen Sunday night robbery, escaping with a large quantity of cash and gold jewellery.
The bandits, who left terror in the wake of their attack on the Singh family at Lot 37 Third Street, Liliendaal, were still at-large up to press time last night.
Members of the extended Singh family operate businesses from their homes and when Stabroek News visited yesterday, they were trying to pick up the pieces and move on with their lives despite still being affected by the ordeal.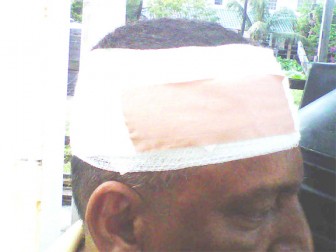 First to be attacked was Ramcharitar Singh, 53, called "Basil," who has a small shop and a tailoring establishment at his home. The yard stretches from Third Street to the Railway Embankment. Singh, whose home is located at the Railway Embankment end, had his head heavily bandaged yesterday as a result of being gun-butted during the 15-minute ordeal, for which he said only God can give him "justice and true reward."
He recounted that around 7.30 pm, he was speaking with two friends when two men walked into the yard and asked, "Whey de junkie wha just come in hey?" He said they were at a loss as to who the men were referring to and responded that nobody fitting that description had entered the premises.
The man said that the men, who were young and well-dressed, insisted that the "junkie" had entered the yard and one of them even claimed that he saw when the man came in. Singh recalled that one walked out of the yard in the direction of the Railway Embankment and stood on the bridge while another stood on a bridge at the side of the yard. He said that shortly after, both men came up to them and said "y'all gon tell we whey this junkie deh. Y'all gon talk and y'all gon tell we weh this jewellery and all de money deh."
The two unmasked men, who by then were brandishing guns, Singh said, pushed them into the house through a side door. After forcing them into the house, he added, the women were pushed to the floor and instructed to lie flat on their bellies while he was grabbed by the shirt collar and instructed to lead the men to the valuables.
"You carry we upstairs and show we whey everything deh," he said, while recalling that before being taken upstairs one of them hit him in the head with a gun. He said that though he was bleeding profusely from his wound, the men still demanded that he show them where the money and jewellery were kept. One of the bandits apparently stood guard over the women.
'All I have'
He said that while upstairs he was forced to lie on the floor and he later pulled a drawer in the bedroom and said "look this is all I have. This is wha y'all looking for? This is what I have." There was about $24,000, US$50 and gold jewellery in the drawer.
Based on Singh's recollection, the bandit who was with him was not satisfied and insisted that he had more. "'Big man this is not all you got, you got more' and I seh no, I don't have," Singh said adding that one of the bandits said 'you know you gon find de rest before ah kill yuh hey today and then ah gon tumble this whole place and get wha ah want.'
He said the bandits took him into another bedroom and after finding nothing took him downstairs. "He shy meh pon de two girls and seh lie flat here cause ah gon shoot and kill all three a y'all right hey cause y'all ain't giving we wha we want," the man said. He added that at that point both men exited the house with him after taking about $4,000 from a drawer in the shop.
Outside Singh, recalled, they proceeded to the front shop where they met his brother, Michael Singh. "Ow this is yuh brother? Ok we think is you we looking for," he recalled one of the men saying before he was pushed into a corner. Michael, 45, lives on the lower flat while another brother, Beaco, lives upstairs with his family.
Michael, according to Ramcharitar, was instructed to lie on the floor and at that moment, Michael's wife entered the yard, unaware of what was happening. Singh said the woman was taken to her home and instructed to produce all the jewellery and money. He said that US$500 and all of Michael's jewellery were taken. Michael was also gun-butted during the ordeal and was in a weakened stated when this newspaper visited. His head was heavily bandaged and he was unable to speak.
Based on the man's account, one of the bandits then exited the house, leaving his accomplice to stand guard. Beaco was apparently accosted at the stairs leading to the upper flat and after being gun butted he was forced upstairs at gunpoint. "You is not no police, you is not no police," Ramcharitar recalled Beaco, who operates a car repair shop from his home, telling the gunman. The man's children were in the house and on realizing what was happening, they started to scream. The bandits did not get any valuables from Beaco's house.
Ramcharitar, who has been living at the address all his life, said he had never been robbed before. He said that following the ordeal, they were told that a car with several strange men were in Third Street and he was convinced that the men had visited earlier to survey the area in advance of the robbery.
He said that earlier too Michael was at the neighbour's shop consuming alcohol and was decked out in all his jewellery – ten rings, two chains and a band.
Beaco's wife, Rena, recalled hiding in the kitchen when the bandit entered with her husband. She told Stabroek News that her husband kept calling her but she did not respond. The woman recalled that the bandit kept telling her husband to search for her. "I was very scared," she recalled, before complimenting the police for their timely response. She said that ranks arrived promptly and took statements and searched the area for clues.
Family members told this newspaper that the area is too dark at night and is in urgent need of street lights. Stabroek News was shown lantern posts without functioning bulbs.
Around the Web