A 50-year-old father of Princetown, Corriverton has been taken into police custody for killing his 32-year-old daughter after he inflicted several lashes to her head with a nailed-filled piece of wood around midday yesterday.
Rawletta Onika Greaves of Scotsburg, Corriverton was on one of her usual visits to the home of her great-aunt, 83-year-old Doreen Ferdinand, where the man, Charles Albert, resides, when she met her demise.
Ferdinand told Stabroek News that Greaves and her father became engaged in a heated argument and she tried in vain to get them to stop.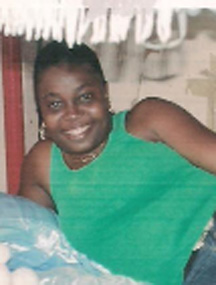 She recalled that the girl got angry after her father hit her with a glass bottle to her head, causing it to bleed and then knocked out two of her teeth.
She said the woman picked up a cutlass and challenged her father saying, "You can't shed meh blood; I won't tek it so easy…"
Ferdinand said she told Albert, her nephew, whom she raised from six months old, to go the neigbour's house at the back to "cool his passion" but his daughter followed him.
The neighbours also talked to the feuding duo. However, about one hour later, when they both returned to Ferdinand's home, the fracas continued in the kitchen. During this time they broke several items and Ferdinand said she told them if they wanted to fight they should go downstairs.
Greaves, she said, then told her that she cared for her father more than her and fell in the process. It was then, Ferdinand said, that Albert started hitting his daughter in her head with the piece of wood. "All she brains come out when he hit she…," she said.
When Greaves was finally lying lifeless, he went and sat calmly on the stairs. Ferdinand said she asked him "Look you kill she now; yuh feel nice?" But he did not respond.
By that time, the police who had received reports about the melee arrived at the scene and took the man away.
The woman's mother, Doris Greaves told this newspaper she was at work when another daughter, Tysiah Greaves, 24, visited and broke the distressing news to her but she did not believe her at first.
Her daughter who had received the message via a relative in Linden insisted that it was true and Doris then started to wail. She said the nurses tried to sedate her but she managed to slip away from them and head to the scene.
When she got there a large crowd had already gathered and everyone was trying to get a glimpse of the body. She continued to holler as Ferdinand tried her utmost to comfort her.
Doris lamented that her daughter, who earned her living from cake decorating – a trade she learnt from Ferdinand – was a very quiet and helpful person and did not deserve to die in such brutal manner.
She said she learnt that the argument between the father and daughter started after Albert plugged in the iron and Ferdinand told Greaves, the eldest of three sisters, to unplug it.
According to Ferdinand, Greaves was looking forward to going travelling to George-town with her to decorate cake for a wedding on Boxing Day.
She said Albert, a former member of the Guyana Defence Force, who "was learning to fly plane" came out of the army several years ago after he suffered a mental problem and had to be treated.
Around the Web