Charitable organization 'Feed a Child for the Holidays' last Saturday  began its Christmas cheer giving with donations to the St. John Bosco Orphanage located in Plaisance on the East Coast of Demerara.
The donations included autographed cricket bats, compliments of West Indies and Guyanese cricketer Christopher Barnwell, clothing, books, school supplies and a toaster, a release from the organization stated.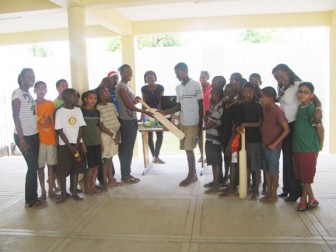 Feed a Child for the Holidays celebrates its fifth anniversary this month and the organization plans to bring Yuletide cheer to five orphanages. The release stated that the charitable body welcomes and would appreciate any assistance rendered to make the provision of gifts, food items, clothing and basic necessities a reality to the less fortunate.
One of the body's major corporate sponsors is the Edward B. Beharry & Company Ltd to which the organization extends full appreciation.
Around the Web