Dularay "James" Seemungal, MS, joined the work force at the tender age of 12 and demonstrated a willingness to learn and discipline at his tasks that soon earned him promotions and the respect of his peers.
James said he started work on October 1, 1945 and earned the princely sum of six cents per hour or 48 cents per day, sums he clearly remembers. At that time, he told Stabroek News, the still was made of greenheart wood, copper plates and wallaba vats. James said he enjoyed being taken into the Fermentation Plant to wash the vats after every session.
Five years after he started working, he was promoted to a wash mixer, a post he held for four years. He then went on to become a still operator. James's diligence at this task soon saw him being promoted several rungs up and he was made a shift foreman. The man also told this newspaper that he was the first persons charged with the responsibility of operating the modern numbers one, two, three and four stills and later he was tasked with training others to operate them.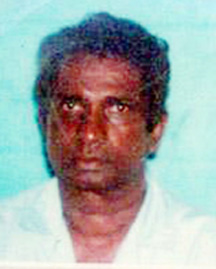 He also recalls that on January 1, 1977 he won management's approval to become the Process Supervisor. He was the second person to fill that illustrious position in the distillation process. James said he had qualities that were considered peculiar in the sugar industry: he arrived for duty 30 to 40 minutes before scheduled time, he was never absent from work, nor did he ever take sick leave. The man said he only recalled taking time off when his mother and son died tragically and he was forced to take six days leave. It was also not unusual for him to check the plants even on the days when the distillery was not producing. "I work very hard with the company and I do enjoy my work," he said.
James also remembers vividly the gold medals he obtained on completion of 40 years of service at the distillery. He said too the company had recognised his service in his 45th year there and was especially pleased that Chairman Yesu Persaud had presented him with an award of $20,000 in his 48th year at the company. James also received a gold medal on chalking up 50 years in the industry. His service was also recognised nationally when he received the Medal of Service (MS) in October 1995. James told this newspaper that he was asked to serve the industry for three extra years and had postponed his retirement to facilitate this.
Today, James enjoys spending his time quietly at home in the Grove Housing Scheme on the East Bank Demerara. Now 79, he said his sight is somewhat impaired but he was satisfied with the efforts he made during his working years. He said he was also pleased to see the alcohol producing industry grow and become more modernised, producing neutral spirit, gin and whisky.
Around the Web