UNICEF Representative Dr Suleiman Braimoh yesterday presented a $3M cheque to the Guyana Legal Aid Clinic to be used to provide services specifically for children.
Braimoh, during the brief handing over ceremony, stated that he was very pleased to have partnered with an organisation that is committed to the rights of Guyanese children.
"I am happy to partner with the Guyana Legal Aid Clinic. We are actually very, very impressed with the work that the clinic has been doing," he stated.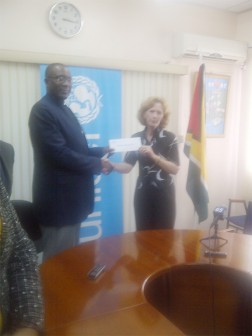 Meanwhile, Director of the Legal Aid Clinic Josephine Whitehead, who received the cheque on behalf of the clinic, expressed deep appreciation for UNICEF's support over the years.
She indicated that it is as a result of UNICEF's support that the clinic is able to provide legal aid services specifically to children and with the funding, she noted, it will expand these services.
She explained that the clinic not only provides legal services but networks with a number of governmental and non-governmental partners to provide essential services to clients.
Whitehead also said the UNICEF funding will be used to advertise the availability of children's legal aid services, since it has been found that only a very small percentage of those who need children's legal aid is reached.
While pledging continued provision of the best possible service to the children of Guyana, Whitehead said that she is hopeful that the Juvenile Justice Bill, which has been drafted some time now, will be enacted by the new government.
Subsequent to the meeting, attorney Jaya Manickchand explained that among the things, the bill is intended to raise the age at which persons are remanded to prison.
"What we are trying to do is not have these children sent to prison. We are looking for more reform for them to have opportunities because when you put them in that environment with seasoned people, it's a little tough," Manickchand stated.
Around the Web