A father is dead and another man is injured after a pre-dawn crash at Second Avenue, Bartica yesterday.
Dead is Clarence Jordon, 24, of 27 Sixth Avenue, Bartica, who is believed to have been driving while drunk at the time of the accident. His friend, Travis Garcia, 23, of Third Avenue, Bartica, sustained lacerations about the face and body and a broken right arm, and he is now a patient at the Georgetown Public Hospital (GPH).
Reports are that Jordon and Garcia along with some friends were drinking at a bar and the former decided to leave around 2am. Before leaving the bar, Jordan reportedly indicated to a friend that he was 'high' and as a result unable to drive and he requested that the friend take him home. The friend, however, refused and Jordan decided to drive himself and left with Garcia in tow.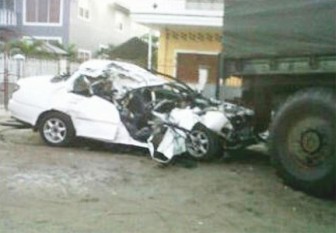 At around 3am, as they were proceeding along Second Avenue in the vehicle, PKK 5278, Jordon allegedly lost control of the vehicle and crashed into the rear of motor lorry GMM 8965, which was parked along the roadway. Jordon died on the spot, while Garcia was taken in an unconscious state to the Bartica Hospital and subsequently transferred to the GPH.
Carmelita Rufina, Jordon's mother, said that he had only twelve days ago become the father of a baby girl. Rufina said that around 3:15am, she heard a banging on her door and when she opened up she saw Jordon's friends there, who told her that he was in an accident.
"A girl came and ask me if I is Clarence mother and then she tell me that he went in an accident and that I should send someone strong with them to the police station," she recounted.
The grieving mother went on to say that after hearing the news, she woke Jordon's brother and instructed him to go with them but he refused. As a result, she herself decided to go along with the friend. Rufina said she was taken to the mortuary where she was greeted by her son's dead body.
"I does always tell he don't drink and drive, but he don't listen," she said.
Clarence, who is also survived by two brothers and two sisters, was due to visit his newborn daughter, who is in Georgetown, for the first time yesterday.
Meanwhile, at the GPH late yesterday afternoon, Garcia was in a delirious state and nurses had to restrain him. He was eventually sedated and is now in a stable condition.
Around the Web