The European Union has urged the speeding up of major sea defence works that it is financing here, warning that Guyana risks losing money.
In a release today, the EU, the major financier of sea defence works here called on the contractor, BK International to accelerate the works. BK has secured a number of sea defence contracts and is a major player in this sector.
Recently accredited EU Representative Robert Kopecky said that BK had experienced delays over the last two years caused mainly "by a certain lack of capacity in managing the large portfolio of the contract and to some extent inadequate provision of resources".
The statement came after Kopecky, other EU officials and Government of Guyana officials visited the projects that the EU is funding.
The EU said that inspections of locations for provisional acceptance of work were carried out on December 13-14, 2011. Representatives of all parties involved visited work sites at Kitty, Coldingen, Melanie Damishana, Clonbrook, Springlands, Uitvlugt, Orangestein, Aurora, Onderneeming, Lima, Walton Court, Johann Cecelia and Zeelandia.
"While the works at most locations were in acceptable state allowing for provisional acceptance, at some locations the works could not be taken over, which could result in enforcement of liquidated damages", the EU statement said.
Urging BK to speed up, the Delegation of the European Union said it was encouraging its Guyanese partners "both from public and private sectors, to do the utmost to ensure (an) immediate acceleration of the works, otherwise there is a risk of loss of considerable amounts of funds".
The statement noted that the EU has a long history of involvement in the sea defence sector here. It said that so far the EU has provided $22B (Euros 80 million) in grants to the sector since the mid-70s "making it by far the largest provider of support to the Government of Guyana in this field".
Further, the EU is also funding the ongoing mangrove replanting programme via the Global Climate Change Alliance to the tune of $1.12B.
It said its recent activities here encompass the construction of 1.6 km of sea defence in the areas of Clonbro0k and Springlands, rehabilitation, upgrading and maintenance  of 18 kms of sea defence in 31 locations, provision of supervisory services, procurement of supplies for the Work Services Group in the Ministry of Public Works and technical assistance to this group.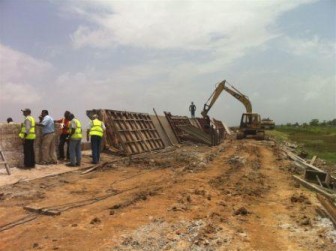 Around the Web