By Zoisa Fraser and Johann Earle
While Home Affairs Minister Clement Rohee has offered no comment regarding abuse allegations levelled against Commissioner of Police, Henry Greene, Crime Chief Seelall Persaud said that an investigation has been launched into the complaint by a woman.
On Tuesday, a 34-year old mother of two alleged that she was sexually abused by the Top Cop on the night of November 22nd after she sought his assistance in solving a police matter.
"I have no comments to make at this time", Rohee said when asked for a response by this newspaper  yesterday on the allegations made by the East Coast Demerara woman.
Persaud told Stabroek News when contacted yesterday that the woman has given a statement to ranks about what reportedly took place on the day in question. Questioned on the calls for Greene to step down or resign, Persaud said that there is nothing stated in the Police Act or the Standing Orders that indicated that once criminal allegations are levelled against the Top Cop he should be interdicted from duty pending the outcome of the investigation or should resign.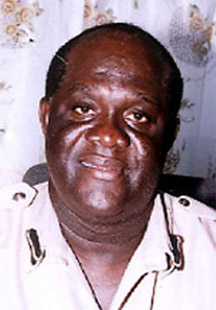 A legal source indicated to this newspaper that according to Chapter 17:10, Police Disciplinary Act, the Commissioner is given immunity as he cannot be arrested by anyone below his rank. He said that based on his research a police commissioner cannot be arrested and placed in a lock up but could be placed in the Camp Street prison.
"Putting the Commissioner position aside, he is also a citizen so clearly he cannot breach the law", the legal source pointed out adding that the difficulty at this point would be that the police cannot arrest him or he cannot be interdicted under that Act.
The source pointed out that one's concern at this point would be who would be investigating Greene as it would not be proper for his own ranks to investigate him.
Honourable thing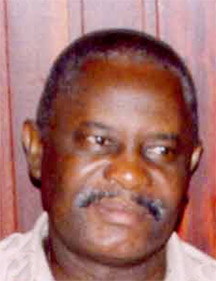 Former Commissioner of Police Winston Felix says that Commissioner of Police should do the honourable thing and tender his resignation following the allegations.
Felix was among those speaking at yesterday's A Partnership for National Unity press conference held at the party's headquarters on Regent Street.
"Let me first of all say that the Police Force has procedures for dealing with the misconduct of its ranks from the Commissioner to Constable," Felix said.
Felix, who served from 2004 to 2006 and was succeeded by Greene, said that a Commissioner can appoint a body or a committee to investigate the conduct of ranks below him. But he said that in the case of the Commissioner, "then one would expect that a decision on the way forward would be taken by those above him."
"The procedures require interdiction after charge. So no charge has been proffered and so interdiction cannot take place. But if a wider body outside of the organization is supervising very senior members of the Force on the investigation, I think that would give some measure of confidence to those looking on at the system and those involved in the allegations and that is easy to organize," Felix said.
He noted that it is not easy to have such a senior person under investigation and holding office. "I don't think that our laws have been so developed to systematically take the person out of office to permit the investigation but procedures can be developed to allow it to happen," he said.
Written to
Felix, drawing a comparison to the time when he was the focus of an investigation, said, "I was written by the Prime Minister (Sam Hinds) for an explanation in a certain matter, which we all know about. One wonders if that will now take place."
Felix stated, "I do not think that the present Commissioner is a stranger to being in hot water. I could recall a similar incident in 1974. I recall another incident at the Officers' Mess in 1994." He said that the Commissioner knows what behaviour is expected of him.
"He has been interdicting ranks who have been committing similar and lesser breaches of the law. So I think he has one honourable course of action to take and to do anything otherwise would be to force the hand of his superiors," said Felix.
"Why would an innocent young woman come to the public and make an allegation of that sort? The second question I would like to ask is where are the women's groups in her support," he asked.
Felix recollected that the allegations against Greene in 1974 were similar to the present allegations that the Commissioner faces. Felix said that the allegations against Greene in 1994 have to do with violence of some sort. "And that one had involved a member of the Force," Felix added.
Speaking at the press conference also, Mervyn Williams, a Member of Parliament for PNCR-1G in the last Parliament, said that the issue is more than just allegations made against a senior police officer. "There has been the development of a culture in this country under the PPP/C Government of the last decade or so. Senior public servants have been placed in acting positions for very long periods of time. Mr. Greene is an example," he said. "Mr. Greene should have been on retirement. This incident would not have been a feature of public life had the Government done what they were required to do," he said, adding that former President Bharrat Jagdeo acted improperly in appointing the Commissioner past his age of retirement.
"Mr. Greene should go. I am not talking interdiction and I am not talking on the basis or the premise of an allegation made against him. He should simply go. His time has passed," said Williams.
Greene has not disclosed much to the media when pressed for information on the allegations against him, saying only that he is seeking legal advice and that God will be the judge.
Sheer foolishness
Meanwhile attorney-at-law Vic Puran said that he firmly believes that Greene has not committed a criminal offence as no evidence of such has been presented.
"All this noise about the commissioner is sheer        foolishness", he said, arguing that the victim's story is that she had sex with Greene because of certain favours she expected from him which he did not deliver upon.
Sex obtained by fraud had never been rape nor will it ever be unless Parliament amends the laws, Puran said. He said that in his view, Greene had committed "no criminal offence. If a woman is foolish enough to give away sex then she has to abide by the consequences of her actions".
The attorney noted that clearly from the woman's story, Greene did not pull her into any hotel. "The fact that she kept his numbers in her phone suggests a consensual relationship". He noted that all the fuss about this particular case is calculated to create political mileage.
The issue at this point Puran stressed is determining whether the Top Cop has committed a criminal offence. He expressed the view that he should remain in his post because "based on her story there is no reasonable allegation. The calls for him to step down are all based on         foolishness and not on law".
He said that if these calls are heeded then it would mean that if someone makes an allegation against anyone, whether true or not, they should step out of office.
"All those who are hollering let them show the element of a criminal offence because nothing has surfaced in the public domain up to now to suggest a criminal offence".
On Tuesday, the woman provided an account to the media in the presence of her attorney, Nigel Hughes, of the incident which she stated was committed by Greene at a city hotel. She said that she sought Greene's assistance in retrieving a mobile phone which the police had taken possession of in a matter she had been engaged in on the ECD.
The woman alleged that after promising to assist her in retrieving her mobile phone, Greene drove to a hotel in the city and after putting on a hat and brandishing a gun demanded she enter a room, labeled Room 1 at the Broad Street, Charlestown hotel. Attempts by this newspaper to contact the hotel yesterday were futile.
The woman alleged that the Top Cop then sexually assaulted her. She recalled the Top Cop answering his mobile phone once during the episode, in which he responded with a series of affirmatives.
She said he told her after the phone conversation that it was the "president who called' in connection with the removal of barricades from the GECOM headquarters in Kingston. She said he later called someone and instructed them to remove the ranks from the police barricades, stating "waste of man power".
The woman said that after the incident Greene threatened her against telling anyone or visiting a medical institution or doctor in connection with the matter. She said that he had been calling her for several days from a mobile number which she provided as 699-0870. She said that Greene wrote the number at the back of his card and told her that only government officials knew the number.
The woman said that several days after the incident, another senior police officer called her mobile phone and requested her to meet with a senior government functionary at the Office of the President to discuss the issue but she declined. She said that the police officer told her that she should visit the government functionary alone "with no family or anybody".
Several calls have been made for the police commissioner to demit office following the allegations. On Wednesday the Alliance For Change (AFC) stated that the Top Cop should be interdicted from duty in connection with the matter. The party noted too that the scenario was a test for President Donald Ramotar, adding that it will define his presidency.
Around the Web