The Guyana Defence Force (GDF) yesterday hosted an Ensigncy Parade at the Drill Square at Camp Ayanganna for the Standard Officers' Course #44, which was completed by ranks from the army, the Guyana Police Force (GPF) and Guyana Prison Services (GPS).
A total of 15 ranks completed the course, including two ranks each from the GPF and GPS and the remainder from the GDF.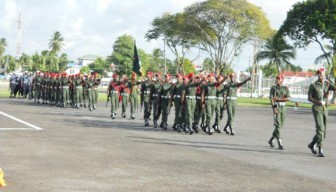 In addressing the cadets, army Chief-of-Staff Commodore Gary Best said that the parade marks a momentous occasion for them and congratulated them for their achievement. He reminded that they were being rewarded for the dedication and commitment they exemplified and the hard work they have put into training.
Telling the cadet officers that they were on parade because they have satisfied the primary objective of Standard Officers' Course #44, he went on to explain that this meant that they have already developed character and the powers of leadership. He emphasised that they now have the tools to become better civilians and he noted that the military path is one of high expectations, stringent standards and leadership opportunities.
Commodore Best added that while the cadets must have questioned their sanity at times, what is important is that they endure those moments and continue to work hard.
Urging them to read, he said that if they have poor knowledge they will have poor leadership capabilities and that will put their colleagues in jeopardy. He also urged them to ensure that their professional conduct transcends racial and social barriers.
Around the Web